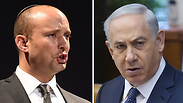 Education Minister Naftali Bennett and Prime Minister Benjamin Netanyahu
Photo: Alex Kolmoisky, Yair Sagi
Netanyahu and Bennett reach compromise, ending coalition crisis
Health Minister Litzman proposes compromise to appoint chairman of National Security Council as temporary military secretary; both parties accept compromise but Bennett claims that Netanyahu initally rejected it; government will vote on appointment of Lieberman as defense minister on Monday.
Prime Minister Benjamin Netanyahu and Bayit Yehudi Chairman Naftali Bennett reached a compromise overnight Sunday regarding updating cabinet ministers on sensitive security information. The agreement paves the way for the government to vote on the appointment of Yisrael Beytenu Chairman Avigdor Lieberman as defense minister.
Yesterday evening Bennett wrote to members of his faction: "In the last few hours, (Health) Minister Yaakov Litzman proposed a compromise in which the chairman or deputy chairman of the National Security Council will be temporarily appointed to perform the role of updating the Cabinet (on security matters) until the Amidror Committee reaches its conclusion. Litzman initially contacted me out of respect for the prime minister and I agreed to his proposal. Thereafter, Litzman contacted the prime minister who unfortunately rejected his compromise. The vote to expand the government has been delayed until Wednesday. Thus, we still are standing behind our demand and tomorrow I will update you in our factional meeting."
Netanyahu later agreed to the compromise prompting Litzman to furnish praise on both him and Bennett for coming to an agreement. "I welcome the understanding that Prime Minister Netanyahu and Minister Bennett reached, which has resolved the coalition crisis. I hope that the government will be expanded and will continue to do its work for the citizens of Israel," said Minister Litzman.
Shortly prior to the announcement, Zionist Union Chairman Isaac Herzog ruled out the possibility of returning to negotiations with Netanyahu to join the government. "In the dispute between Bibi and Bennett, I am watching the magician and the dreamer with great pleasure," wrote Herzog on his Facebook page. "I have no intention of becoming a tool in their twisting of each other's arms. I said there are no negotiations and there aren't any negotiations. There is no door, no window, no key, and no lock. I understand the desire for a different headline and I am sorry to disappoint if I am not supplying one."
Earlier in the evening, Bennett spoke about the crisis: "I will continue to fight and defend the IDF's soldiers in and outside of the government." Bennett, who made this statement during a visit with President Reuven Rivlin to the Himmelfarb High School in Jerusalem, added, "Ten years ago, I was sent with thousands of combat soldiers to fight in the Second Lebanon War by a cabinet that did not know its goals or what it was voting for. I swore when I left Lebanon that I would not allow such a thing to happen again."
The Bayit Yehudi chairman stated further that that similar mistakes had been made during Operation Protective Edge in 2014: "Unfortunately, two years ago as well, during Operation Protective Edge, the Cabinet was not privy to all information and did not understand the issue of the tunnels until I brought it to their attention on June 30. Nor did it understand the solution to the problem. I will not let this happen again," he continued. "We are not asking for jobs or money; we are asking to preserve human lives. Human lives are more important than ministerial portfolios. I will continue to fight for, and defend, IDF soldiers as well as residents of the Gaza border region regardless of where I am, whether that is in or outside the government."
Bennett's demands included appointing a designated military secretary for the members of the cabinet who will provide security updates and prepare ministers to perform their jobs effectively. Moreover, he demanded there be an increase in field tours and that ministers' access to security information be eased. Netanyahu announced on Friday that he had formed a committee that will recommend ways to update and inform cabinet minister. In addition it will brief them prior to key meetings while maintaining information security. Nevertheless, the Bayit Yehudi has rejected the proposed committee dismissing it as a "spin."