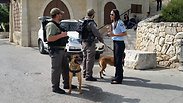 Scene of attack in Armon Hanatziv
The Israel Police released for publication on Monday morning the details surrounding the investigation into a stabbing attack which took place on the evening of Remembrance Day on May 10 in Armon Hanatziv against five women aged 70-80,

According to the statement, three Arab minors all from the Arab neighborhood of Jabel Mukaber were arrested on May 19.

The women were walking near the Goldman Promenade in the Armon Hanatziv neighborhood in Jerusalem when they noticed two Arab minors sitting on a bench. When they passed them, the two individuals attacked the women and stabbed two of them who were subsequently evacuated to Shaare Tsedek Medical Center in moderate condition. After the attack, the suspects managed to flee the scene prompting a wide scale manhunt.

Large security forces were called to the scene and opened up joint investigation together with the local Jerusalem Police and and Shin Bet.

During the investigation of the the suspects, all of whom were aged between 16-17 years, the three admitted to their intent to carry out an attack on Jews and even stated that they had discussed the details of the attack during their studies via their Facebook pages, the police statement read.

The three decided to meet at a small supermarket in Jabel Mukaber. Armed with knives and an ax which they took from their homes, the three proceeded in the direction of the promenade where they waited for their Jewish victims. A third suspect left the scene after becoming afraid that the attack would lead to the demolition of his parents' home.

As the women passed the two boys, they began stabbing them and striking them with the wooden handle of the ax. The two then fled the scene in the direction of their village while throwing and hiding their weapons on the way. One made it home and the other took refuge in his school. "Later on, one of the attackers returned to retrieve the weapons and hid them in their village," said the police statement.

The investigation also revealed that following the attack, the two suspects corresponded with each other via Watsapp and Facebook and determined to carry out another stabbing in light of their earlier "success" the first time. The attack was thwarted however as the two were arrested before its implementation.

"During this attack the terrorists did not hesitate at all to harm Jews whoever they were, even against elderly women who were in the area," the statement concluded.

The local Jerusalem police commander praised the work of the security forces: "The police will continue to operate with determination to ensure the security of the capital's residents."

During the investigation, it also emerged that the mother of one of the suspects was arrested one week ago for attempting to carry out a stabbing attack at the Zeitim Checkpoint at the entrance to Jerusalem.