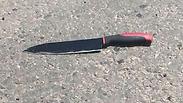 A 19 year old soldier was stabbed on Pri Magadim street in the Nachalat Yitzhak neighborhood of Tel Aviv.

He has been evacuated to Ichilov hospital in the city in light to medium condition with stab wounds to his upper body. The terrorists used a screwdriver to stab the soldier.

The attacker has been found and arrested. He is a 17 year old Palestinian from the West Bank.

A witness was quoted as saying "I heard a lot of people yelling and I didn't understand what was happening. I saw a soldier and two other people holding sticks. Someone was yelling 'call the police, there was a terrorist!' I saw the soldier with his head covered in blood. It happened on the sidewalk, and it seemed as if the soldier was on his way home. His parents came down to the street and were in shock."

The attack occured close to the Kirya base, which is the IDF headquarters. The soldier arrived at Ichilov hospital and is being treated in the emergency room. He is fully conscious.