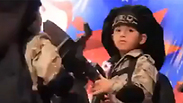 A child in the Gaza City elementary school play
An elementary school in the Gaza city neighborhood of Zeitun put on a show in which pupils were dressed as armed Islamic Jihad fighters, with camouflage uniforms, helmets and play guns last weekend.
The play took place in an auditorium as teachers looked on and encourage the children onstage. The audience - probably their families -were watching in the audience.
During the play children enacted placing a bomb under an IDF tank and blowing it up, shooting mortar fire at an IDF outpost, and the simulation of a raid on an outpost with the killing of an Israeli soldier – also played by one of the schoolchildren. One of the kids was even wearing a real Go Pro camera to film the "raid."
Children enacting war in Gaza play
Performances and displays of a military purpose take place mainly at end-of-the-school year events in some schools in the Gaza Strip and this has been documented in the past. However, such a show, accompanied by advanced pyrotechnics and with cruel actions like killing carried out by children in elementary school, has not been not documented until now.
One of those watching the show and took part in the ceremony was Khadar Habib, a senior member of Islamic Jihad in the Gaza Strip. Habib spoke to the audience while the children were standing behind him. In his speech he thanked the school authorities and, ironically said that the children of Gaza dreamed to live, play, dance and sing like the other children of the world.