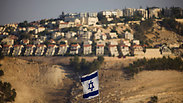 Land of Israel Caucus chairmen MKs Yoav Kisch (Likud) and Bezalel Smotrich (Bayit Yehudi) launched its campaign Tuesday to extend Israel's sovereignty over the settlement, Ma'ale Adumim
A survey conducted for the lobby, which is in effect a settlers' lobby in the Knesset, revealed that 76 percent of Israelis believe that it is not reasonable to leave Ma'ale Adumim without an established political and legal status. 77 per cent of respondents said that since politicians from the right and the left agree that in any eventual peace agreement with the Palestinians Ma'ale Adumim will be under Israeli sovereignty, it is possible to apply sovereignty over the city without an agreement.
"Something transpired in Israel, the most nationalistic government has arisen since the founding of the state, and its role is to promote the national agenda on which we were elected," explained Smotrich. "This poll shows that Israel knows what is good for itself and that the great majority of its citizens supports Israeli sovereignty over Ma'ale Adumim. In the next Knesset session we will submit a bill to apply sovereignty and we will promote it."
Unlike East Jerusalem and the Golan Heights, Ma'ale Adumim was not annexed by Israel, meaning that the GOC Central Command is considered to have sovereignty over it. The laws which are applied there bear an amalgamation of Ottoman, British, and Jordanian roots. Over the years, International law and some Israeli law has also been applied.
The annexation bill will, in effect, determine that Israeli law will apply to the settlement. This would mean, among other things, that Ma'ale Adumim would be subject to Israeli planning and building laws, which will permit building in the city to proceed without requiring the approval of the Minister of Defense nor that of the Civil Administration.
During the previous Knesset, Yariv Levin (Likud), currently Tourism Minister, submitted a series of bills for the application of Israeli sovereignty over parts of the West Bank, including Ma'ale Adumim. However, due to early elections, Levin's proposal never came to fruition. His proposal was supported by many currently serving as government ministers, including Ze'ev Elkin and Miri Regev. The question is how these ministers, including Levin, Defense Minister Avigdor Lieberman, and Bayit Yehudi head Naftali Bennett, will react to the new bill on the matter.