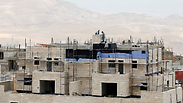 Construction in Ma'ale Adumim
Photo: Reuters
Israel's settlement drive is becoming irreversible, diplomats fear
Hundreds of thousands of settlers now live across the 'green line', UN officials say, 'settlements are the vehicle for taking control of the land' and express concerns about their effects on the feasibility of a future accord, but add that 'some of it has to be reversible.
In the hills east of Jerusalem overlooking the city of Jericho and the Jordan Valley stands a religious Jewish settlement whose red-tile roofs, neat gardens and brightly colored playgrounds give the sense of permanence.

Mitzpe Yericho has stood on this escarpment close to the Dead Sea - the lowest point on earth - since 1978. It is one of more than 230 settlements Israelis have built in the West Bank and East Jerusalem over the past 50 years.

Diplomats and international monitors are increasingly concerned that the drive may be reaching the point of irreversibility.

If a peace deal were magically struck tomorrow, the Palestinians would expect the Israelis living in Mitzpe Yericho to leave. But its 3,000 residents, nearly all whom are religious nationalists, have no such intention. To them, the settlement enterprise is God-given and irreversible.

"If there's peace with the Palestinians we're staying and if there's no peace we're staying," said Yoel Mishael, 65, who has lived in Mitzpe Yericho since its founding. "It's part of Israel, according to the Bible. It's something from God."

Foreign ministers will meet on Friday with the aim of paving the way for a summit later in the year that they hope the Israeli and Palestinian leaders will attend.

In a sign that he is aware of the growing international pressure, Prime Minister Benjamin Netanyahu said on Monday that he was in favor of parts of the Arab peace initiative, a proposal put forward by Saudi Arabia in 2002 that would grant Israel recognition in exchange for withdrawing from the West Bank and East Jerusalem, among other steps.
A VAST INVESTMENT
The settlement project began after Israel captured the West Bank and East Jerusalem in the 1967 war and hundreds of thousands of Israelis have settled there since.

Many live in large blocs near Jerusalem or the 'green line' that separates Israel from the Palestinian territories, while others live deep inside the West Bank in highly protected enclaves or pre-fabricated 'outposts' perched on hill tops.

Calculating the financial cost of settlements to Israel is difficult; as well as the capital required to build there are defense and infrastructure costs and the price of tax breaks for residents who move there. But the Macro Center for Political Economics, an Israeli think-tank, estimates building alone has cost around $30 billion over the past 40 years.

Barely a month goes by without a fresh announcement from the government or one of its ministries about West Bank territory being declared "state land", a precursor to settlement building, or a decision to allow new construction to proceed.

At the same time, Palestinians living in a part of the West Bank known as Area C, which accounts for 60 percent of the total and is where most settlements are located, are being uprooted from the land in increasing numbers.

During a visit to a sensitive part of the West Bank near the Palestinian city of Nablus, where settlements occupy almost every hilltop and are steadily expanding their footprint, UN diplomats studied maps and pointed out how the Israeli enclaves were spreading east toward the Jordan Valley.

"It starts to look irreversible," said one official, a view separately supported by half a dozen foreign diplomats.

Under the Oslo accords of the mid-1990s, Israel retains full control over Area C, where large tracts have been declared closed military areas. As a result, Israeli courts tend to approve the removal of Palestinians from the area and the demolition of their homes, even though the accords did not change the illegal status of settlements there.

"Settlements are the vehicle for taking control of the land," said Catherine Cook, an official with the UN office for the coordination of humanitarian assistance and an authority on settlements, speaking last month.

Asked whether she believed the settlement enterprise was irreversible, she replied: "Some of it has to be reversible."
PRESSURE FROM WITHIN
If a peace deal were struck, many settlements would undoubtedly remain. While not openly acknowledged, Palestinian negotiators accept that land swaps, in which the Israelis would keep major settlement blocs along the green line and near Jerusalem, and the Palestinians would receive equivalent amounts of land from Israel in return, would be part of the deal.

But that would still leave vast areas of the West Bank, where 2.8 million Palestinians live in major cities such as Hebron, Nablus and Ramallah, dotted with more than a hundred settlements, many large and protected by the military.

Education Minister Naftali Bennett is an ardent supporter settlements and wants Israel to annex all of Area C rather than allowing a Palestinian state to emerge. Defense Minister Avigdor Lieberman lives in a settlement and is similarly wary of Palestinian statehood, even if like Netanyahu he has welcomed elements of the Arab peace initiative.

Hagit Ofran, a senior official at Peace Now, an Israeli NGO opposed to settlements, believes lines could be drawn that would allow a Palestinian state to emerge even if Israel kept many of its enclaves. But even then she estimates that as many as 150,000 settlers may have to be uprooted.

While some might leave willingly if offered the right compensation, many others would not. The removal of just 8,500 settlers from Gaza in 2005 caused violence and outrage.

Many of the settlers in the heartland of the West Bank are religious nationalists who believe all the land, which they call Judea and Samaria, was gifted to Israel in the Bible. They are not interested in financial incentives to leave.