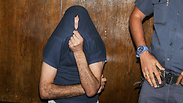 Palestinain rape suspect set free (Photo: Yariv Katz)
Two Palestinians who were suspected of violently raping a young mentally disabled girl were freed from jail after the latter backtracked on her testimony. The police investigated her claims and did not find any evidence of rape, humiliation, or violent behavior.

Just last week, the police caused a stir when they did not pass along information to crime reporters about the incident. After the incident was finally made known, Prime Minister Benjamin Netanyahu hastily accused political officials and the media of not condemning the incident: "This is a shocking crime that calls out for wall-to-wall condemnation," the Prime Minister wrote on Thursday, "but for some reason such condemnation hasn't been heard – not in the media and not across the political system. We can only imagine what would have happened in the reverse case. We will charge the highest price, and use the full extent of the law against all those involved in this cruel incident."

Police Spokeswoman Commander Merav Lapidot said earlier this week that the police were not attributing the alleged crimes to nationalistic motives, but the request for remand filed in court in the case of one of the suspects listed the motive as nationalistic. The police representative said that it was decided to incarcerate the suspects for nationalistic motives, but a short while later the police changed its opinion once more.

"Until the third suspect in the matter is captured, we are requesting to keep the motive listed as nationalistic." A public defense attorney representing the suspect said in a hearing at the Tel Aviv Magistrate's Court that "This man was in Israel legally, a father, who, following a quarrel between neighbors, is now here."

The defense attorney continued, saying "there still has not been any evidence found that can bring about an indictment, and the lack of evidence speaks for itself. I believe that also the pictures – distressing pictures – are not attributed to the suspect."