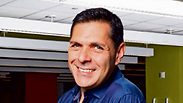 When American businessman Daniel Lubetzky stopped in Jordan this week during his trip to Israel, what he saw there surpassed all of his expectations: a project that was founded in Jordan by a group of Israeli farmers who had been evacuated from the Gush Katif settlement as part of the 2005 Gaza disengagement. They cultivate organic vegetables, relying on hundreds of Muslim workers—many of them refugees from war-torn regions in Syria—and then export the produce to the ultra-Orthodox Jewish community in Israel, Saudi Arabia and the United Arab Emirates. Just think of that amazing mixture, said Lubetzky, a glimmer in his eye. Religious-National Jews from Israel working with Jordanian partners, employing Syrian workers and selling to the ultra-Orthodox on one hand and the Saudis on the other.

Lubetzky's enthusiasm is understandable. For over 20 years, the food industry mogul has been working to promote business ventures between Israelis and Arabs in general and Palestinians in particular as part of a variety of initiatives. A man of peace, a philanthropist and an avid supporter of volunteer organizations and activities associated with the left, Lubetzky is now set to invest in the new project he had visited in Jordan. Despite his enthusiasm though, he remains a realist, saying that economic cooperation should not replace actual peace. Rather, he feels that economic agreements can and should be an important component of a broader, mosaic-like agreement, but that they should not come in its stead and certainly should not precede it. He also admits that the agreements between Israelis and both Palestinian as well as other Arabs has been slow and rather frustrating; even when there are successful ventures, those involved in it protect their anonymity and refrain from setting an example to others.

Lubetzky, does not hide. Transparency has become a way of life for him. The CEO of KIND Healthy Snacks, Lubetzky has been seeing his company gain more and more popularity, with hundreds of millions of its products sold every year in the US.

KIND is locally produced in the United States from a mixture of nuts, almonds and dried fruit, without any preservatives. Promoted as both healthy and delicious, he and his partners went to war with the FDA over their use of the word "Healthy." Lubetzky explains that due to outdated notions, almonds weren't considered healthy because of the high percentage of fat found in them, but that today we know that it is actually healthy fat. After employing medical and academic experts, KIND has recently managed to gain the FDA's approval to use the word "Healthy" when describing their products. Lubetzky's story, of a relatively small fish that took on and changed the position of one of the largest and most intimidating regulators in the US, was greatly covered in US media.
An affair with Starbucks
Lubetzky's detailed his road to dominating the health food industry in his 2015 autobiography entitled, Do the KIND Think: Think Boundlessly, Work Purposefully, Live Passionately. The autobiography paints a picture of a self-made man whose life embodies the essence of the American Dream.

Lubetzky was born to an Ashkenazi, Jewish family in Mexico City and he began closing deals while he was still in elementary school. Even so, his rise to the top was not straightforward - making mistakes, falling and bouncing back many times.

After finally hitting it big with KIND Healthy Snacks, Lubetzky became a guru of sorts for socially-conscious business ventures. These days, his company makes up 80% of its market, as well as 15% of the snack bars market. He shared that he already purchases 1% of all the almonds produced in the world. Though the recent drought in California hurt this market, Lubetzky himself says that a similar climate can be found around the Mediterranean.

In the beginning, all the company's snacks were manufactured by hand by its founders, who mixed, prepared, sliced and wrapped each bar themselves. Lubetzy would then carry the products with him as he dashed between convenience stores and supermarkets in an attempt to get them to sell his products.

In 2009, in the midst of the economic crash, he finally got his big break when he was invited to present KIND before Starbucks' Board of Directors. At the time, he did not even have enough money to pay his own salary.

Lubetzky described the deal as a couple's union. The deal garnered a lot of press, since up until that point Starbucks had not sold any products in its stores that weren't manufactured by the company itself. Later on the agreement was dissolved, but two years after they separated, they got back together.

Today, KIND's various products are sold in over 50,000 stores. Since the company is still privately-owned by the Lubetzky family and its initial employees, its revenues are not public knowledge. Despite this, venture capital funds that have invested in the company have come out of the deal with large profits. So far, Lubetzky has refrained from going public with the company or adding a strategic or financial partner, citing that its owners are perfectly capable of moving forward on their own.

KIND has previously been ranked as the number one company in terms of growth within the US food industry, as well as one of the most environmentally friendly companies out there, with Lubetzky himself receiving praise for his work from NOGs.

All in all, KIND employs around 600 workers. Lubeztky makes it a point to include his workers in the company's management and to have them enjoy some of its profits.

Lately, Lubetzky has been tentatively considering expanding his business to the global market. So far, KIND's products have been sold on a small scale in 20 countries, but he is in no hurry to move forward with the idea. He expresses doubt about entering the Israeli market, saying that financially this does not seem like a viable option. It is also doubtful that doing so would help progress his dream of promoting a more ethical political discourse within Israel. And yet, he does not completely disregard the idea; there is something in the local Israeli market that manages to entice foreign businesses. He is quick to point out, though, that the public cannot be fooled more than once, and that companies have only one chance to make a first impression. For this reason, his motto is never to disappoint the client, and to approach them with sincerity and transparency.

Due to his extensive work to promote peace, Lubetzky has been branded a leftist. This was further solidified during Israel's last elections, when he was among the financial backers for V15, a campaign that sought to replace Prime Minister Benjamin Netanyahu. Lubetzky himself, however, identifies as a moderate centrist, describing a democratic, liberal, principled and sane center that respects the opinions of those from all points on the political spectrum. According to Lubetzky, the fracture within Israeli society does not separate the left-wing from the right, but rather the moderates from the extremists; he views an Israeli move toward extremism as a threat to Israel's connection to the Jewish Diaspora, and he vows to fight it.

Lubetzky's autobiography also touches upon this point, warning against extremism, pride, selfishness, irrationality, haste and unprofessionalism. Instead, he recommends emphasizing discussions and consulting experts before making important business decisions. He states that while not all opinions should be followed, various perspectives should be allowed to be heard. He adds that despite it being a long and arduous process, he eventually learned that decency and fairness provide you with an incredible advantage over your competition.