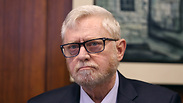 State COmptroller Yosef Shapira
Photo: Gil Yohanan
In a surprising sequence of events, a bill intended to severely limit the scope of the state comptroller's power was submitted on last Wednesday and then fast tracked at the Ministerial Committee for Legislation. The initiative came the same week that the current state comptroller, Yosef Shapira, published a scathing report on Prime Minister Benjamin Netanyahu and his wife, Sara.

Knesset House Committee Chairperson David Bitan (Likud) submitted the bill, which aims to create a mechanism that would oversee the comptroller's conduct—in essence acting as a comptroller to the comptroller. Bitan then exercised his authority as house committee chairperson to waive the 45-day deliberation period, creating the possibility instead of bringing it before the Ministerial Committee for Legislation within four days.

Going against convention, the state comptroller was not allowed to state his case regarding Bitan's bill. The representative for the attorney general within the Ministerial Committee for Legislation stated that his office was not given the necessary and customary time to discuss the proposal. The bill was then passed by the committee and is set to be discussed further by the Justice Ministry.

In practice, the bill proposes a change in the current State Comptroller Law, which includes a clause regarding any complaints filed by an employee of the office. Defending the bill, Bitan explained that there is no body currently supervising the State Comptroller's Office, which denies any employee of the office who uncovers instances of corruption to be granted protection from the state comptroller. This may deter any government employee from filing a complaint with the Ombudsman of Israel—a unit within the comptroller's office that handles complaints filed by the general public.