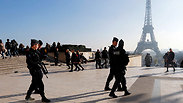 Police secure area surrounding Eiffel Tower
AP
A cloud of concern has descended upon Europe concerning the UEFA 2016 soccer championships, scheduled to begin in less than two weeks in France. Fears were raised following a severe and rare warning issued by the US, cautioning vigilance to its citizens planning on visiting Europe over the summer.
While the warning does not refer to specific threats on the championships games themselves, it does call upon American citizens to be alert and to avoid crowded areas such as places broadcasting the games along with the arenas in which the games will be played. Despite the games concluding at the end of July, the warning has been issued until August 31.
Last November, a terror attack carried out in Paris by ISIS claimed the lives of some 130 people while wounding hundreds more. The investigation of the attack later uncovered that there had also been a plan to cimmitt a separate attack during a footbll match of the French national football team.