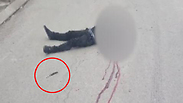 The new footage of the knife's location.
Footage from Hebron shooting case indicate knife may have been moved closer to dead terrorist's body
The prosecution in the case involving IDF soldier Elor Azaria has presented the court with video footage it claims shows the terrorist's knife being moved closer to his body after the incident in which Azaria shot him.
New footage released Wednesday from the scene of the Hebron incident in which IDF infantryman Elor Azaria shot and killed a neutralized terrorist allegedly shows the attacker's knife being moved closer to his body in the aftermath.
In video below, the knife can be seen to be moved slightly by an ambulance going by (whose tire runs over the knife), and then being kicked over closer to the dead terrorist's body by a person whose face is not seen.
The new video.
Azaria has claimed that he shot the terrorist because he feared that he would use the knife. Prosecutor Lieutenant Colonel Nadav Weisman said that "there is a claim that states the terrorist moved his hand towards a knife near his hand, but we will show that this claim is a false claim."
He continued, stating that "there is a very clear documentation of the knife's location before the shooting and after the shooting and it is far from the terrorist's hand. The defendant's only answer is that he doesn not believe the B'Tselem video, and that the knife was documented by others as well, and we will show this to the court."
Azaria's attorney said in response to the prosecution's indictment that the defendant "acted to neutralize the terrorist and prevent harm to himself and (his fellow soldiers), who were standing near the terrorist, in a fraction of a second. He saw no other possible way to save his life and theirs. The defendant admits that in the act of shooting he may have caused the death of the terrorist, but he certainly neutralized him. The defendant had in mind a situation in which, in light of the circumstances, the terrorist was (wearing) an explosive vest and (carrying) a knife (while perpetrating) a combined attack, and his movements were meant to set off a vest on his person, thus creating a 'quality' attack…The defendant thought there was a substantial and immediate danger to himself and his friends."
Last Saturday, the funeral of the terrorist, Abed al Fatah Al-Sharif, took place in Hebron. It was attended by many people, some of whom called for revenge.