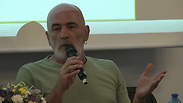 Ron Kahlili, Mizrahi campaigner, at the conference
A new peace organization called "two countries, one homeland" which is made up of both Israelis and Palestinians had its first convocation on Thursday morning whereby it announced its principals: two independent states based on the 1967 lines, economic cooperation, and a shared capital in Jerusalem.

Hundreds of peace activists came to the first of annual convocation at the Ganei HaTa'arucha meeting hall in north Tel Aviv.

The organization, which was founded three years ago, counts Israelis who live in settlements in the West Bank, ultra-Orthodox Jews, and West Bank Palestinians among its members.

The movement recently presented its founding principles to Palestinian President Mahmoud Abbas and also to the chief rabbi of the Efrat settlement Shlomo Riskin, who gave the movement his blessing.

Amongst those in attendance at the meeting were writer Nir Baram, former head of Peace Now Moriah Shlomit, and Hadassah Froman of Tekoa in the West Bank and whose husband, Rabbi Menachem Froman, was a promoter of interfaith dialogue between Israeli Jews and Palestinian Muslims.

.

In contrast to other peace organizations, this new movement agrees that Jerusalem should not be split and that Jewish settlers will be able to remain and be fully integrated into a Palestinian state, while Palestinians in the diaspora will receive monetary compensation. It should be noted that the settlers who are a part of this movement recognize the Palestinian right to a state, and agree to live under Palestinian sovereignty.

A letter containing the solidified principles of the organization was passed around, in which the group calls for two sovereign states divided along the 1967 lines, and that the two countries will be closely intertwined with joint security, human rights courts, cultural cooperation and economic cooperation.

The organization further calls for open borders between the two countries, and the ability for Israelis to live in Palestine and Palestinians to have the ability to live in Israel. Jerusalem will be the capital of the two countries, and each country will have its own immigration policy. There is also a call for a joint mechanism for restitution for citizens of both countries that were negatively affected by the conflict.

The organization has conducted more than 200 "parlor meetings" in Israel and the West Bank, events, and lectures over the past few years.

The organization stated in a message that "we proves that settlers and leftists, ultra-Orthodox and Arabs - all of whom who have gotten used to thinking of themselves as rivals – can find a common denominator for cooperation and to work together for a just solution of this conflict."