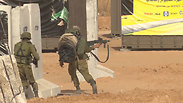 תרגיל ב צאלים מוידאו בנושא מנהרה של חמאס נחשפה ב שטח ישראל ליד גבול רצועת עזה צה"ל
An army bag containing binoculars, night vision goggles, and advanced electronic arms were stolen from a reservists unit at Tzeilim base in the south in the middle of the week. The base commander decided to prosecute the unit officer and soldiers who were training in light of the fact that the weapons stolen are classified as "weapons of crucial importance to the IDF."

Theft of military property is a phenomenon which has been increasing in recent years, and which neither the IDF nor the police have found a solution for. The IDF Military Police opened an investigation into the incident, and according to the evidence, a worrying picture has emerged.

Residents of the western Negev – almost daily – steal military property from the various units who train in the area.

According to the evidence, while the soldiers were unloading their gear from the truck, a man on an ATV approached them, waited until the soldiers had their backs turned to him, drove up, stole a bag, and ran away – all in broad daylight. The soldiers gave chase, but the man on the ATV got away.

Additionally, according to various reserve officers and logistics personnel at the base, this trend has only been increasing over the past year, with 50 caliber heavy machine guns affixed armored personnel carriers (APC) and tanks parked on the edge of the base.

Following this worrying phenomenon which has caused considerable damage to the IDF and endangers the security of Israeli citizens, the investigation further revealed that many of these weapons are smuggled into Egypt. Therefore, a plan to upgrade the defenses on the base costing millions of shekels has been approved.

"Despite the cooperation between the IDF and the police on this issue, the thieves are continuing to steal from the base around the clock. We are beginning to feel helpless," said a reserve officer who is currently training on Tzeilim.

"A majority of the soliders and officers have heard about what's going on and are familiar with the phenomenon, and are really focusing their efforts on making sure that military equipment doesn't get stolen, but on the other hand, soldiers are prohibited from carrying out the rules of engagement procedure on thieves, and the thieves know this."

The IDF Spokesperson's unit said in response "the issue of military equipment being stolen is know and is being dealt with by law enforcement officials. In the IDF in general and bases in the area in particular are carrying out extensive operations to prevent weapons thefts, including advancing overall efforts in security, prevention, and enforcement. This particular case is being investigated by the IDF Investigations Unit."