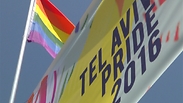 Pride 2016
Photo: Yaron Sharon
Tens of thousands of people participated in the Pride Parade on Friday, marching through Tel Aviv in a street party that culminated with a beach party at Charles Clore Park.

Some 50-60 thousand people were estimated to be marching on the streets of Tel Aviv, while a total of 200,000 expected to participate in Pride events overall.

The day's celebrations began at 10am with an event at the city's Gan Meir Park, where politicians—including recently-sworn-in Likud MK Amir Ohana, who came with increased security amid threats against him—spoke and Israeli singers Corinne Allal and Dudu Aharon, among others, performed. In addition, journalist Yael Dayan and party promoter Ilana Shirazi were honored for their contribution to the community.

At the end of the event at Gan Meir, participants held a minute of silence in memory of Shira Banki, who was murdered at the Jerusalem Pride Parade last year, and the victims of the 2009 shooting attack at the Barnoar LGBT youth club.

The parade itself kicked off at 12pm, making its way through major streets in the city towards Charles Clore Park, where a massive party was held. A parade float carrying top DJs is accompanied the marchers, providing music.








Women at the forefront
This year's parade highlights women in the LGBT community. One of them is Amy Orbach, a 17-year-old transgender woman, who will march at the parade in her new identity for the first time. "I'm coming to the Pride Parade in my new look as a woman and after having bought a dress in the women's department. I feel safe, strong, and proud of myself," she told Ynet.

"A year ago, when I was marching in the Pride Parade, I looked at a parade float on which transgender people were dancing and wondered to myself, 'When will it be my turn to be who I am? If it even happens,'" Amy told Ynet. "And here I am, a year later, as myself, wearing a beach dress, and truthfully it scares me because I don't know how it will be perceived, even though this is the Pride Parade."

A year ago, Amy came out to her parents and her friends at her high school in Modi'in. "The second I realized there was gender division to boys and girls, I realized I wasn't on the boys' side. For Purim, I loved dressing up as women and I felt the most comfortable like that," she said. "After I came to IGY (Israel Gay Youth organization), I knew how to name what I was. I was able to admit that I'm not a man, I'm a woman."

Amy said that her father supported her completely from the word go, "even though it was very hard for him." At school, friends and teachers were also fairly understanding: "The teachers reacted amazingly and allowed me to use the teachers' bathroom as a gender-neutral bathroom. In addition, I got exempted from gym class. Some of my class were surprised, but I was open to answer questions and some of their concerns have been alleviated. Sometimes people laugh at me, be I learned to deal with it."

How does it feel to be marching at the Pride Parade for the first time as you truly are?

"I'm done living a lie and I'm finally going to the parade as a woman, and I understand how significant that is. I decided not to be a part of the statistics of 41 percent who attempt suicide, and chose life instead. We must not be ashamed or spare ourselves our identity because that is repressing and depressing. Always be who you are."
From Tel Aviv's first Pride Parade to 2016
Ruth Litwin, 70, from Haifa, is no stranger to the Pride Parade. She participated in the very first Tel Aviv Pride Parade and on Friday she will march with 200 lesbian women who are members of the "Beshela" group for older lesbian women, which is a part of the Israeli National LGBT Task Force.
"You can't even compare the first parade I participated in to what the parade has become," she claimed. "The parade, for me, puts a spotlight on a history of terrible oppression, and comes to showcase all of us—who we are and what our dreams are."
Ruth was born in Poland to two Holocaust survivors and immigrated to Israel when she was young. Long after she got married and had three daughters, she fell in love with a woman while doing a doctorate degree in the United States. During that time, she joined the American radical lesbian movement in the 1970s, and since her return to Israel has been an active members of the feminist community.
"Our community has always been very age-hophobic," she said. "Older people were treated with wariness. But today we're living our lives, falling in love and being happy, and we come to the parade after having seen what happened last year (in Jerusalem) with the murder of Shira Banki (by a religious man). We need to change perceptions so people see things without judgment or hatred."
This will be the first parade for some family members of the LGBT community. Among them is Ayala Cohen, who will join her soldier son Sahar for the first time. "I think it is appropriate to provide a personal example and come to the parade as a mother who thinks her son—who serves in the army and performs all of his duties—deserves to have the same rights as any other citizen in the country," she said.
"I think more parents should march. These are our children, and we need to accept them unconditionally. Just like I fight for my other children, I'll fight for his rights too. I love him and won't give up on him for anything. We must accept our children as they are - period. They don't have any other parents."
Tzvika, 54, and Kfir, 44, made their way from Haifa to Tel Aviv for the parade. "We met 15 years ago when I was serving as a guide for a group of men," Kfir said. "Tzvika was deep in the closet and we started seeing each other. Today, our relationship is the most public there is because we want to show the general public that it's cool to be a new type of family, that it's not scary or lonely or anything else being said about gays our age."
According to Vigo, which analyzes social media chatter, over the past 24 hours there has been 14,000 posts about the Pride Parade an increase of 150 percent to last year. Out of these posts, 65 percent were positive in nature while 35 percent condemned the parade.
Moran Azulay contributed to this report.