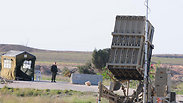 Iron Dome during Operation Protective Edge
GENEVA - Israel is holding discussions with the International Criminal Court over its investigation into possible war crimes in the 2014 Gaza conflict, the ICC's prosecutor said.

The disclosure would indicate a step-up in Israeli engagement with the Hague-based tribunal and a shift from a policy of non-cooperation with ICC probes of alleged war crimes in Palestinian territories.

An Israeli government source said there was contact with the ICC on procedural issues, but declined to go into detail.

"Israel has agreed to engage with my office and we are exchanging information," ICC prosecutor Fatou Bensouda said during a visit to the UN in Geneva late on Thursday. She said the ICC was in touch with both sides in the Gaza conflict.

The preliminary examination under way could lead to the opening of a criminal investigation and war crimes charges against individuals on both sides of the 50-day war between Islamist Hamas militants in Gaza and Israel.

Health officials said more than 2,100 Palestinians, died in the conflict. Israel put the number of its dead at 67 soldiers and six civilians.

Until now, Israel has publicly declined all cooperation with the ICC on investigations related to its conflict with the Palestinians. It has argued that the Palestinian Authority is not a sovereign state and so has no right to formal relations with the first permanent international war crimes court.

Activists have long sought to involve the ICC in one of the world's most protracted and politically-charged conflicts, though court officials have always been wary about stepping onto what some see as a diplomatic minefield.

Last year, then-Israeli foreign minister Avigdor Lieberman, who is now defence minister, threatened to lobby the ICC's European backers to stop financing the court after it opened the initial Gaza inquiry at the Palestinian Authority's invitation.

The Palestinians have keenly engaged with the ICC, repeatedly sending it dossiers of evidence of what they say were Israeli atrocities in the Gaza war and inviting the ICC to send a field team to investigate on the ground.

Israel denies committing war crimes in Gaza and has kept Gaza, a small coastal enclave, under blockade largely since Hamas seized control there in 2007.

Any ICC visit to Gaza would require Israeli cooperation since the territory is virtually inaccessible by sea or via its land border with Egypt. Court officials would have to arrive through an Israeli airport.

"If a visit to the region is required, or when it's required, we will also be making that request to visit," Bensouda said. She declined to comment when asked whether a request had been made.