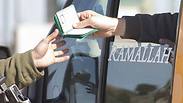 Checkpoint inspection in Ramallah
Photo: EPA
Stolen car, truck break through IDF checkpoint into West Bank
Vehicle driver ignores Border Police orders to stop for inspection; civilian guard opens fire at wheels of truck in effort to stop it, but fails; checkpoint's commander moderately hurt, likely from ricochets from the guard's fire; incident believed to be criminal.
A stolen vehicle and a truck managed to break through a Border Police checkpoint and enter the West Bank on Saturday morning.

The vehicle arrived at the Mizmoriya checkpoint near Jerusalem's Har Homa neighborhood, where it was identified as stolen by the Border Police officer in command of the checkpoint.

The commander ordered the car to stop for inspection, but it kept driving, resulting in the officer firing warning shots into the air.

A civilian security guard at the checkpoint noticed a truck following the vehicle and veering from the road. He opened fire at the truck's wheels, failing to stop it.

The checkpoint commander was moderately injured in his back, apparently from ricochets from the security guard's fire, and taken to hospital for treatment.

The Border Police is investigating the incident, which is believed to be criminal in nature, and has been searching the area for the two vehicles. It is also unclear whether there was any connection between the truck and the stolen car.