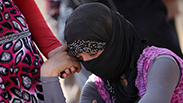 Nineteen Yazidi women were brutally executed last weekend in Mosul, Iraq, after refusing to have sex with their husbands - all members of ISIS.
Eyewitnesses told news agencies that the women were put in an iron cage and burned alive in front of a crowd of hundreds of spectators.
"They were burnt to death while hundreds watched," an eyewitness told the Syrian news agency ARA. "No one could do anything to save them from the horrific punishment."
Abdullah al-Mala, another witness, said that "they were punished because they refused to have sex with ISIS militants."
ISIS militants kidnapped the nineteen women, along with thousands of others, after having taken control of Yazidi territory in Iraq in August 2014, and used them as sex slaves.
American network Fox News reported that human rights groups and the UN pleaded with ISIS several times to release the women, and said that the crime constituted a serious violation of human rights.
According to the Kurdistan Region's government estimates, 1,800 women are being held captive by ISIS in Iraq and Syria. The UN, however, estimates that the number of Yazidi women alone held captive by ISIS stands at around 3,500.