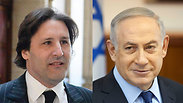 Conflicting accounts have arisen regarding an alleged transfer of funds made by French billionaire Arnaud Mimran to Prime Minister Benjamin Netanyahu in 2001, with the two sparring over the sum and the purpose of the transaction.
Mimran is currently on trial in France for tax fraud over an alleged 283 million euro scam involving the trade of carbon credits. At court, Mimran, the key suspect in the case, claimed that he had given Netanyahu over 1 million euro in campaign contributions in 2001, while Netanyahu was not in office.
The Prime Minister's Office denied the claim, calling it a "baseless lie," but acknowledged a donation of $40,000.
On Monday, Mimran claimed in an interview with Israel's Channel 10 that he transferred 170,000 euro to Netanyahu's personal bank account in 2001.
"I still have the bank statements. They say 'from Arnaud Mimran, from my personal account, to Benjamin Netanyahu, to his personal account,'" he told Channel 10.
Regarding where the funds were transferred to—Netanyahu's public activity fund or his private bank account—Mimran insisted that "the amount that I transferred… was transferred officially. He can check his account. This isn't something either of us can hide. I remember it being $150,000. Now he's saying it was $40,000. I'm confident in what I'm saying because I have the bank statements. It was transferred to an Israeli bank account under the name Benjamin Netanyahu."
Mimran denied reports that quoted him as saying he donated 1 million euros to Netanyahu. "First of all, I never said 1 million euros. I said one million, and it was in 2001 when France was still on the Franc. One million French Francs is approximately the same as 170,000 euros," he said.
"Second of all, I did indeed give Netanyahu money, but there is some confusion surrounding it. I gave him the money in 2001, and I only came to celebrate his election victory when he won in 2009," Mimran clarified.
However, Netanyahu did not run in the 2001 elections in Israel, which were only for the position of prime minister and saw then-Likud leader Ariel Sharon defeat then-Labor leader Ehud Barak.
Mimran also told Channel 10 that he and Netanyahu had been friends for years, even after 2001. and that in 2009 he even visited Israel to celebrate Netanyahu's victory in the elections. "We had a friendly relationship. We traveled together," he said.
Mimran claimed that he helped fund Netanyahu's trips abroad, including vacations in France, but stressed that all the trips were organized and paid for legally. "Bibi never did anything illegal, and never tried to hide anything," he said, using the prime minister's nickname.
Battle of versions
Allegations about the prime minister's relationship with the French billionaire first arose in March when Israeli daily Haaretz reported that the Mimran family has made regular contribution to the Likud party in France, and that since 2000, Netanyahu has been making use of an apartment owned by the family in Paris's 16th Arrondissement.

The PMO vehemently denied the report, saying that "the implications in the article are false and ridiculous."

"There hasn't been any communication between the Netanyahu family and the Mimran family for years," the PMO statement went on to say. "These meetings occurred when Mr. Netanyahu was a private citizen. The Mimran family was a prominent and respected family in France at that time, and there were no legal proceedings against them. Netantyahu didn't request anything, didn't receive anything, nor did he give anything to Mimran in return. It goes without saying that he didn't intervene in any legal proceedings related to the Mimran family."

Two months later, on May 19, Mimran made the claim in court that he had transferred 1 million euro to Netanyahu's election campaign—without stating when that was. The PMO was quick to deny this, saying at first that Netanyahu "did not ask and did not receive any donation from Mimran."

According to the Political Parties Financing Law and provisions set by the State Comptroller, it's illegal for a candidate running for Knesset to receive more than NIS 11,480 in a single campaign donation. A candidate for the head of a political party is not allowed to receive more than NIS 45,880 from a single donor.

If Mimran's claims are found true, the funds would constitute an illegal campaign donation.

In the wake of the claims, Attorney General Avichai Mandelblit ordered the legal examination of Mimran's testimony, leading the PMO to acknowledge that Netanyahu did receive funds from Mimran, but it was within the limits of the law.

Netanyahu, the PMO said, "did not received any illegal contributions from Mimran, and any claim to the contrary is a lie. Mimran contributed to Netanyahu's public activity in the beginning of 2000, when (Netanyahu) was a private citizen and was not in office. This money was used to fund media appearance and hasbara (public relations) trips abroad for the benefit of the State of Israel, and were all done in accordance with the law. Mimran, who is on trial for fraud over several hundred million dollars, is trying to deflect the court's attention away from himself and onto different acts of fraud."

Shortly before Netanyahu left for Moscow on Monday, the PMO released yet another statement on the matter—the second in less than 24 hours. This message for the first time stated a sum—$40,000—and said the funds were transferred to Netanyahu's public activity fund.

"The claim that Mimran donated 1 million euros to Netanyahu's election campaign a baseless lie," the PMO statement said. "There was no contribution by Mimran to Netanyahu's election campaign. In August 2001, when Mr Netanyahu was a private citizen, Mimran contributed $40,000 to the fund for public activities for Mr Netanyahu, which included media appearances and numerous educational campaigns abroad in favor of Israel, and made in accordance with the law."