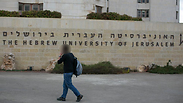 Hebrew University campus
Photo: Ohad Zwigenberg
The American Anthropological Association (AAA) has voted against a proposal seeking to establish an academic boycott against Israeli universities. The proposal was rejected by a slim margin, however, with 2,423 voting against and 2,384 voting for it.

While it was able to avoid being boycotted, Israel was issued an official condemnation by the AAA over its treatment of the Palestinian people. The association sent a letter to the governments of Israel and the US protesting various issues relating to the Israeli-Palestinian conflict, and calling on other associations to pressure academic institutions in Israel to fund Palestinian researchers.

Technion President and the Head of the Association of University Heads, Prof. Peretz Lavie, attributed the rejection of the proposal to the diligent work of Israeli academics.

"Thanks to a persistent effort and the cooperation of the Israeli Anthropological Association, we were able to prevent the proposal's approval," Lavie said. "This is a substantial achievement to Israeli universities, which are determined, more than ever, to continue spreading the work of Israeli research throughout the world for the benefit of science, humanity and society. I wish to thank all those who were involved."

As part of the Israeli academic world's attempt to impede the move, all of the Israeli university heads had reached out to the president of American Anthropological Association, Prof. Alisse Waterston, asking that the boycott attempt be blocked.