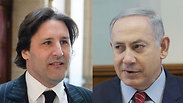 Mimran and Netanyahu
Photo: AFP, Ohad Zwigenberg
French billionaire Arnaud Mimran has changed his story again in the ongoing saga regarding an alleged money transfer to Prime Minister Netanyahu in 2001

Follow Ynetnews on Facebook and Twitter

Mimran testified in a Paris court in May that he transferred a million Euros to the current Israeli prime minister, changing his statements in an interview with Israeli Channel 10 on Monday to say that it was actually a million Francs (170,000 Euros). He even claimed that he was in possession of bank statements saying that he transferred funds directly to Netanyahu's personal bank account.

Now, once again, Mimran is changing his tune, saying "everything Bibi said is the truth."

"Anyway," he continued, "there was nothing Bibi did which could be considered illegal. I transferred an amount of money to him and invited him to vacation with me in Monaco and to ski with me in the French Alps."

The billionaire further went on to say that "the amount transferred included the vacations and equaled about a million French Francs, which equals approximately 150,000 Euros. It seems I got confused with the precise number because it all happened over 10 years ago. It was a long time ago."

In response to the Prime Minister's Office response, Mimran said "I'm not mad at Netanyahu and I'm not against Bibi. I didn't do anything wrong – I only gave him money. I don't want him to think that I'm mad at him."

Mimran's lawyer, Jean-Marc Fédida, said in an interview that "Mr. Mimran paid for a family vacation for the Netanyahu family in the south of France about 15 years ago. The whole trip cost about a million French Francs, or 170,000 Euros.

When asked about the affair while on a trip to Russia celebrating 25 years of diplomatic relations, Prime Minister Netanyahu said "this is a storm in a teacup; not even a storm, but a drizzle."

He added that "we are talking about a million Euros donated to a 2009 election campaign. But there was no million. It wasn't for an election campaign. It wasn't in 2009. It was a legal contribution regulated to a public work fund which I established for the benefit of the State of Israel during the time that I was a private citizen in 2001. This will also turn into a non-issue. It's clear that this is just a way to chase after me politically. What they couldn't do with votes they're trying to do with false charges inflated by the media."