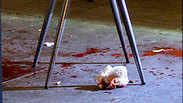 Blood at the scene of the attack
Photo: AP
Israel on Thursday imposed a series of sweeping restrictions on Palestinian movement and deployed hundreds of additional troops to the West Bank in response to a terror attack that killed four Israelis and wounded 16 others in Tel Aviv.

The shooting, carried out by two West Bank Palestinians, targeted a crowded tourist and restaurant district in the heart of Tel Aviv and was among the deadliest and most brazen attacks in a nine-month wave of violence. The area is located across the street from the IDF's headquarters.

As Prime Minister Benjamin Netanyahu prepared to meet with his Security Cabinet to discuss further responses, the IDF announced that it was deploying two additional battalions to the West Bank "in accordance with situation assessments." The deployment, involving hundreds of troops, includes soldiers from infantry and special forces units.


Among the participants in the Security Cabinet meeting was Israel's new defense minister, Avigdor Lieberman, the leader of an ultranationalist party known for his hard-line views toward the Palestinians. Before the meeting, Lieberman visited the site of the shooting and had a cup of coffee in a local cafe.

"I do not intend to speak and detail the steps we intend to take, but I am sure that I have no intention to stop at words," he said.

Earlier Thursday, COGAT, the unit which manages civilian affairs in the West Bank, suspended tens of thousands of special permits given to Palestinians to visit Israel during the current Muslim holy month of Ramadan.

It said that 83,000 Palestinians would be affected, adding that hundreds of residents of the Gaza Strip who had received permits to visit relatives and holy sites during Ramadan would also have access frozen.

"All permits for Ramadan, especially permits for family visits from Judea and Samaria to Israel, are frozen," said a statement from COGAT.

In addition, COGAT said it had frozen permits for 204 relatives of one of the terrorists, and the IDF is preventing Palestinians from leaving and entering the West Bank village of Yatta, home to the attackers. COGAT said entering or leaving will only be permitted for humanitarian and medical cases.

The IDF was also making preparations to demolish the family home of one of the attackers in the village of Yatta, near Hebron, in the West Bank.

In Tel Aviv, extra police units were mobilized, mainly around the city's central bus station and train stations, said police spokesman Micky Rosenfeld. The Sarona compound quickly reopened.

Sarona, home to dozens of shops, cafes and restaurants, is one of Tel Aviv's most population destinations and is often crowded with visitors and soldiers in uniform taking a break from their duties at the nearby headquarters.

The two terrorists dressed in suits and ties and posed as customers at an upmarket restaurant in Tel Aviv's Sarona complex before pulling out automatic weapons and opening fire, sending diners fleeing in panic.

Four Israelis—Idan Ben-Ari, 42, from Ramat Gan; Ilana Nave, 39, from Tel Aviv; Dr. Michael Feige, 58 from Ramat Gan; and Mila Mishayev, 32, from Rishon Lezion—were murdered and 16 others wounded.

Hamas spokesman Hussam Badran called it "the first prophecy of Ramadan" and said the location of the attack, across the road from Israel's fortified Defense Ministry, "indicated the failure of all measures by the occupation" to end the uprising.


Islamic Jihad, another militant group, called the shooting a "natural response" to Israel's "brutal actions" against Palestinians. But it also did not claim responsibility for the attack.

During the recent wave of violence, Israel's government has repeatedly criticized Palestinian factions for inciting attacks or not doing enough to quell them.

The Popular Front for the Liberation of Palestine, the largest group in the Palestine Liberation Organization after Fatah, the Western-backed party of President Mahmoud Abbas, described the killings as "a natural response to field executions conducted by the Zionist occupation."

The group called it a challenge to far-right nationalist Avigdor Lieberman, Israel's newly appointed defense minister, who must decide how to respond to the violence, possibly with tighter security across the West Bank.

Joint List leader MK Ayman Odeh, meanwhile, condemned "this horrific attack on civilians."

"My heart goes out to the families. Harming innocents is always condemned; there is no and there can be no justification for shooting civilians in the street," he said.

"The government is only intensifying hate and violence. All Israeli and Palestinian civilians should be removed from this circle of horror and blood. We must fight together in a just way to bring an end to the occupation, (and usher in an era) of justice and peace for the two peoples."

The United Nations' special coordinator for the Middle East, Nickolay Mladenov, condemned the shootings and expressed alarm at the failure of Palestinian groups to speak out against the violence.

"All must reject violence and say no to terror," he said in a tersely worded statement. "I am shocked to see Hamas welcome the terror attack. Leaders must stand against violence and the incitement that fuels it, not condone it."

German foreign minister Frank-Walter Steinmeier condemned Wednesday's attack.

"Murder and terror are completely without justification and cannot be used as an instrument of political disagreement," said Steinmeier.

Prime Minister Benjamin Netanyahu visited the scene minutes after arriving back from a two-day visit to Moscow. He described the attacks as "cold-blooded murder" and vowed retaliation.

"We held a consultation about a series of offensive and defensive measures that we will implement," he said. "We will locate anyone who cooperated with this attack and we will act firmly and intelligently to fight terrorism."

Israel had announced last week it was relaxing restrictions on the movement of Palestinians, mainly from the West Bank, but also those living in Gaza, during Ramadan.

It had planned to allowed up to 500 people from Gaza to attend Friday prayers at the Al-Aqsa mosque compound on the Temple Mount in East Jerusalem over the holy month, which began on Monday.

AFP, Reuters and AP contributed to this report.