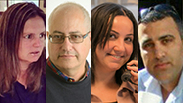 'Mila was supposed to get married soon'
Names of four victims of Tel Aviv Sarona complex attack cleared for publication; Dr. Michael Feige was a well-esteemed sociologist and anthropologist, Ilana Navaa's door was always open, Mila Mishayev was waiting for her soon-to-be-husband, Ido Ben-Ari's son didn't want to sit at that restaurant.
Four Israelis were murdered in a terror attack at Tel Aviv's trendy Sarona complex on Wednesday night—Ido Ben-Ari, Ilana Navaa, Dr. Michael Feige, and Mila Mishayev.

Ido Ben-Ari, 42, from Ramat Gan, was sitting at the breakfast restaurant Benedict with his wife and two children when the two terrorists opened fire at the nearby Max Brenner dessert restaurant. Ido was killed, while his wife Tal was wounded and remains hospitalized.

Reut, Ben-Ari's sister, said that "they were sitting at Benedict to the chagrin of his son, who insisted he didn't want to sit there. Eventually, the son relented."




Her brother, she said, served in the elite IDF Sayeret Matkal unit. "He was a reservist, received a commendation from the president, was the salt of the earth, a charming father and wonderful brother, who worked in a senior position at Coca Cola and was very esteemed by his colleagues," Reut went on to say.

"Life has ended for my parents and for us, nothing would ever be the same," she added. "He was the funny one, that one who initiated things, the one who brought life into every conversation and meeting. People loved being around him."

His funeral will be held at 6pm Thursday at the Yavne cemetery.

Mila Mishayev, 33, was supposed to get married soon. Her family in Ashkelon said she was at Max Brenner with a friend, waiting for her soon-to-be-husband to arrive. Mila, who was wounded in her leg, still had time to call her boyfriend and tell him what happened before she died because of a significant loss of blood.

Ashkelon mayor Itamar Shimoni said the municipality was "in contact with the family and offering any possible aid. Would that they know no more sorrow. May God avenge all who were murdered in the shooting attack."

Mishayev's funeral will be held at 2pm Friday in Ashkelon.

Dr. Michael Feige, 58, from Ramat Gan, was a sociologist and anthropologist that specialized in Israeli society, collective memory and political myth. He headed the Israel Studies program at Ben-Gurion University of the Negev. He had published books in English and Hebrew and won the Association for Israel Studies' award for best book in 2010.

Friends and colleagues remember him as a "man of reason, tolerance and peace."

In a statement Thursday, colleagues at the university's Institute for the Study of Israel and Zionism said they were "stunned by the incomprehensible loss of Feige."

"Michael was a friend, scholar and teacher," it said. "Above all, Michael was the incarnation of a man of reason, tolerance and peace."

Prof. Oren Yiftachel, the head of the Department of Interdisciplinary Studies, spoke about his slain colleague, "Michael was a colleague and a friend. This is a very sad day. He was of great stature, a charming man and excellent researcher. An anthropologist and sociologist of Israeli society ... He was a true democrat, a rarity in that regard. He had the ability to understand all sides, and that's what made him such a good anthropologist. This is a great loss to our university."

Ilana Navaa, 39, from Tel Aviv, is survived by her four daughters. "She was the best woman in the world," her neighbor said.

"Devoted to her home and children, always made lunch for my own children when I was at work, her door was always open. I'm simply in shock, I can't function... I just spoke to her daughter who is 12 and just celebrated her bat mitzvah two months ago. I sent my own daughter to be with them because they do not even comprehend it."

Her funeral was held at the Yarkonim cemetery in Petah Tikva at 2pm Thursday.

AP, Itay Blumenthal, Noam (Dabul) Dvir, Ilana Curiel, Matan Tzuri, Reut Rimerman, Shahar Hay, and Telem Yahav contributed to this report.