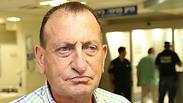 Tel Aviv Mayor Ron Huldai
Photo: Avi Mualem
Tel Aviv Mayor Ron Huldai spoke on Army Radio about Tel Aviv and the Israeli-Palestinian conflict in light of Wednesday night's terror attack at Sarona Market.

Huldai spoke of the situation under which Palestinians live: "We are probably the only country in which another people is living under occupation without civil rights and the leadership is saying the situation will (make conditions ripe) in favor of an agreement."

He added, "I know the reality and I know that courageous leaders need to aspire to take action and not just pay lip service. The fact that we are tolerating this misery will not lead to the change that needs to be made."

Huldai argued that the status quo cannot be maintained: "You can't hold people in a situation of occupation and hope they'll reach the conclusion everything is all right."

Huldai also suggested that a worse security situation may be the only way for Israeli citizens to realize that there is no alternative but to try to reach an agreement.

After last night's attack Huldai issued a statement: "It was a hard night in Tel Aviv. There was another attack in which terrorists, who were apparently sitting at a coffee shop, hid their weapons and then started firing indiscriminately.

"We ask the public to remain calm. We in Tel Aviv are a target of terrorism, and they are trying to disrupt our lives. We will continue to enjoy living in the city, and terrorism will not make us surrender. I ask everyone to return to their daily routine tomorrow."