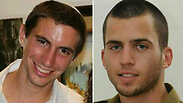 Hadar Goldin and Oron Shaul.
The Ministry of Defense has announced that it will be changing the official status of fallen soldiers Lieutenant Hadar Goldin and Staff Sergeant Oron Shaul, who were both killed during Operation Protective Edge in the summer of 2014. Goldin will be recognized as "killed in action", but will also receive the additional status of "missing in action and in captivity." Similarly, Shaul will be recognized as killed in action and a soldier whose place of burial is unknown, but also as missing in action and in captivity.

The slight difference between the two soldier's statuses is likely due to the fact that while some of Goldin's body parts were recovered on the battlefield, thus enabling his family to preside over a funeral procession, no remains of Shaul's body were recovered thereby precluding the possibility for a funeral. Remains of both soldiers' bodies are thought to be held by Hamas.

The redefinition of the soldiers' status came after the Goldin family petitioned the IDF to add the "missing in action and in captivity" status in an effort to prevent the conclusion of the campaign to return all of their remains to Israel. According to the family, the official recognition of their son as a fallen soldier symbolized the closure of the chapter and would lead to the premature termination of government efforts despite the fact that not all of his remains have been returned. The new status therefore, symbolized the idea of the state's obligation to retrieve Goldin's and Shaul's remains.

"We praise the IDF and the security apparatus for the new status of Hadar and Oron," said the Goldin family. "Indeed, the state of Israel's declaration about Hadar shows that the objective of returning him has not been completed and that the country is fully obligated to return Hadar to his grave in Israel."

"We expect practical steps to be taken by the state, by the IDF and the security apparatus to bring about Shaul's and Hadar's speedy return."

When contacted by Ynet, members of the Shaul family said they were not aware of the decision. "The truth is we have not yet received any information regarding the matter," said Zehava Shaul, Staff Sgt. Shaul's mother.