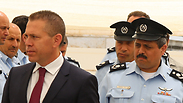 Minister Erdan and Commissioner Alsheikh.
Photo: Ofer Meir
The Israeli military says the West Bank will be closed off until the end of the Jewish holiday of Shavuot due to security concerns following a Palestinian shooting attack this week that killed four Israeli civilians.

It said Friday that crossings will be open for "humanitarian" cases and for Palestinians to worship at al-Aqsa mosque in Jerusalem.

Police are on high alert in Jerusalem as thousands of Palestinians are expected for prayers on the first Friday of the Muslim holy month of Ramadan. The holy site has been a flashpoint of violence in the past, and tensions are especially high after Palestinian gunmen killed four Israelis in a shooting at a popular Tel Aviv tourist spot on Wednesday.

The military says the closure will end Sunday night after the Shavuot holiday.

Minister of Public Security Gilad Erdan and Israel Police Commissioner Roni Alsheikh gave statements to the press on Friday. "I have instructed the police to significantly reinforce their presence in places where many people gather. Operations against illegal aliens are constantly ongoing, and we will continue to exert the full power of the law with anyone who gives shelter, employs, or aids an illegal alien and does not report (them) to the police. Following the attack, steps were taken, which we reported to the police," Erdan said.

Alsheikh added, "The distinction we make between terrorists and the (general) population is an important one, and we do everything so that we do not confuse (the two)... We will give (people) the feeling of security, in areas where there are no warnings or concrete concerns of terrorist attacks, but civilians, naturally, want to feel secure and the police pays a price (for that). This is a blanket that must be stretched where it's right to do so as far as answers to concrete threats is concerned, and as far as a feeling of security is concerned."

When asked by the press about the investigation of Wednesday's attack, Alsheikh said that "There is a gag order, and we are certainly obligated (to follow it)."

UN High Commissioner for Human Rights Zeid Ra'ad Al Hussein condemned the Sarona Market attack but is deeply concerned about the revoking of permits "which may amount to prohibited collective punishment and will only increase the sense of injustice and frustration felt by Palestinians in this very tense time", spokeswoman Ravina Shamdasani told a news briefing.

"Israel has a human rights obligation to bring those responsible to account for their crimes. And this it is doing. However the measures taken against the broader population punish not the perpetrators of the crime, but tens - and maybe hundreds - of thousands of innocent Palestinians," Shamdasani said.