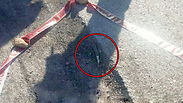 Attacker's knife
Photo: Hatzalah Yehuda and Shomron
On Friday night, an attacker attempted to stab IDF soldiers outside the Shomron Regional Brigade. The soldiers prevented the attack by shooting the perpetrator, and no IDF injuries were reported.
The attacker arrived riding a bicycle. He approached the guard post, dismounted his bike, and rushed at the Nahal soldiers present. They shot him and succeeded in neutralizing the threat.
The IDF immediately provided first aid to the injured attacker. They declared his condition to be serious before evacuating him to the Rabin Medical Center in Petach Tikva.
This evacuation is despite the three-day closure in effect on the West Bank following the murderous attack on Wednesday night in Tel Aviv.