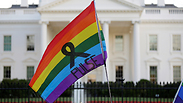 Israel's President Reuven Rivlin says the shooting at a gay nightclub in Orlando that killed 50 people and wounded dozens more is "as cowardly as it is abhorrent."
In a letter to President Barack Obama, Reuven Rivlin says Monday that Israel stands "shoulder to shoulder with our American brothers and sisters" after the attack on the LGBT community.
He sent his condolences and said there is "no comfort for those who have had their loved ones torn away from them."
The Orlando attack has dominated news in Israel, which has seen a wave of Palestinian attacks in recent months. On Wednesday two Palestinian gunmen killed four people at a popular shopping and restaurant area in Tel Aviv.
LGBT groups in Israel planned rallies and other support for the community in Orlando.
On Sunday, Prime Minister Benjamin Netanyahu, also issued a statement saying, "On behalf of the people and government of Israel, I extend our deepest condolences to the American people following last night's horrific attack on the LGBT community in Orlando."
"Israel stands shoulder to shoulder with the United States at this moment of tragic loss. We send our heartfelt sympathies to the families of the victims and wish a full and speedy recovery to the wounded," he said.
During the opening of the government's weekly cabinet session on Monday, Netanyahu said, "We are all shocked by the terrible massacre in Orlando. I wish to express our national condolences to the American people and to the families. Islamic terror threatens the entire world and all enlightened nations need to unite in order to fight against it."
A number of solidarity events with the victims of the Orlando attacks took place around Israel on Sunday afternoon and evening. The Tel Aviv Municipality lit its southern façade overlooking Rabin Square to display the LGBT pride, American, and Israeli flags, and a candlelight vigil was held at Gan Meir. In Jerusalem, a group of people gathered in Zion Square holding rainbow flags and signs of support.