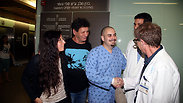 A victim of the Sarona market attack in Tel Aviv last week, which claimed 4 lives and left 16 wounded, is expected to be discharged from hospital in the upcoming days despite being shot twice in the head.

This miracle can be ascribed to the resourcefulness of the doctors at Ichilov Hospital and sheer luck.

Assaf Bar, a 27-year-old resident of Haifa, had two bullets lodged two centimeters in his head which, from a medical perspective, is relatively superficial. The doctors decided not to remove one of the bullets that entered the back of his head, for the time being, since it doesn't pose a danger to his life or health.

The second bullet was more problematic since it penetrated the area behind the ear, making its way two centimeters in without exiting Assaf's head. Due to the severe bleeding which ensued and the fear that it could cause permanent brain damage, the doctors decided to perform emergency surgery during which they extracted the bullet.

Assaf recounted Monday the terrifying moments at the café where he was shot while sitting with his girlfriend. "I saw the terrorists. They sat at a table near us but I did not suspect anything. I was hit first. I was shot in the head at the very beginning of the event, just before paying the bill, a moment before we intended to leave. "

Those around Assaf were emotionally moved as he mentioned that his mother died from cancer three weeks ago. "I took care of my mother during the last two years. It was a difficult time during which my mother never stopped fighting despite the toxins she was receiving and despite their side effects. My mother died knowing that she did she could to nothing to prevent it."

Regarding the attack he said, "Two despicable terrorists murdered four innocent people who went out to have a good time. I refuse to accept the reality that exists in the country, that innocent people are murdered and that no efforts are made to prevent it."

Doctors say Assaf can expect to make a full recovery from his injuries and return to a completely normal life. When asked how he felt, Assaf said, "I've got some headaches and hearing problems, but every day I feel stronger and I hope to continue to do so."

The Director of Neurosurgery at Ichilov Hospital, Professor Tzvika Ram stated, "Assaf is a great example that despite having been shot twice in the head, with lots of luck and the quick and immediate treatment by Dr. Strauss, he stands before you today."

"His condition can be defined as light, and he is expected to be discharged in a few days." Finally, he even joked about the bullet remaining in his head: "It won't bother him at all. It may serve as an amulet and will help stop more bullets."