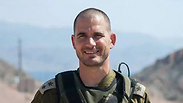 Neria Yeshurun
Photo: IDF Spokesperson
Chief Military Advocate General (MAG) Sharon Afek has recommended censuring the battalion commander who approved the shelling of a clinic in the Gaza Strip during Operation Protective Edge in retaliation for the killing of an officer. Afek recommended on Tuesday that IDF Deputy Chief of Staff Yair Golan conduct a disciplinary proceeding for Lt. Col. Neria Yeshurun.

Yeshurun was serving as the commander of the armored battalion two years ago that he ordered shell the clinic in what he described over the radio as an "honor salvo and salute" in memory of Capt. Dima Levitas, who had been killed the previous day by a sniper firing from the same building.

The case was investigated by the Military Police, which did not uncover any evidence that showed a lack of military justification for the shelling. In addition, it became clear that nobody had been injured in the clinic. However, a statement from the IDF Spokesperson said that Afek found Yeshurun's statement to those in his command—that his firing as an honor salvo or an act of revenge would be legitimate—unacceptable.

"Such a message could blur the boundaries between the permissible and the forbidden and trip up soldiers and commanders who were exposed to it, especially during combat," explained Afek. "It is not compatible with the values of the IDF, and his statement constitutes a command failure." The chief MAG also recommended that the results of disciplinary procedure be taken into account in future decisions regarding Yeshurun, including possible promotions.

Levitas's commanders and soldiers did not attend his funeral; they continued their operational duties. Yeshurun could thus not pay his respects to the man who died under his command, so called his soldiers over the radio and eulogized the beloved company commander. "We will join all the people that are escorting Dima on his final journey, and we will shoot a salvo of honor and salute to this officer at the place from where the bastards shot at his tank and ended his life," said Yeshurun at the time.

"Yesterday, here at this very spot, we lost Dima," said the battalion commander to his troops. "Dima, who hadn't been a company commander for very long, managed in a short time to show himself to be a serious, quality, and motivated officer. In a very short time, he came into the company, took it on his soldiers and led it even during this operation that we are all participating in to rescue the residents of the Negev and Israel in general."

Yeshurun explained to his troops the righteousness of their fighting in Gaza: "Look at the difference between us and them. While we're entering here and endangering ourselves to defend the citizens of the south from rocket fire, they're going into mosques, into clinics, hospitals and schools and firing at us from there. It's precisely the essential difference between us and them. Dima understand that difference extremely well and gave up his soul in a dignified manner worthy of praise and admiration."