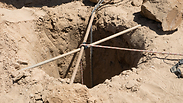 Hamas tunnel
Photo: IDF Spokesman
A senior Hamas member involved in building tunnel infrastructure, Bassam Mahmoud Baraka, turned himself and his family in to Israel during the first week of June, according to Gazan sources.

Baraka, a son of a senior member of Hamas in Gaza, crossed the border into Israel with his wife and children and with valuable equipment, namely his laptop and secret maps apparently showing part of the tunnel infrastructure in the Gaza Strip. According to sources, on the day of his disappearance he arrived at the home of his wife's parents and said he was going out to run errands and would return in the evening. He then went with his family towards the border and there gave himself up with his equipment to Israeli security forces. The Red Cross officially informed his family in Gaza that Baraka is in Israel.

Sources in Gaza reported that an explosion heard in central Gaza Strip near the border fence with Israel on Tuesday. The sources in Gaza said that the Israeli Air Force attacked the area, and the IDF spokesman said, "The IDF carried out a trial run on the Gaza border." No injuries were reported in the incident.

Israel has worked extensively on the Gaza border in an attempt to expose Hamas attack tunnels and has already discovered two of them over the last few months.

Hamas activist Mohammad Atuna, 29, was arrested after crossing the border fence and in possession of two knives. He crossed with the intent of attacking Israeli forces on the border with Gaza last month .

The arrest of Mohammed Atawnah was revealed hours after locating the second tunnel discovered on the Gaza border. According to the Shin Bet, Atawnah, age 29, from Jabaliya, provided information during his interrogation.

A former tunnel digger, Atawnah was arrested after crossing the border from Gaza into Israel. He was found to be in possesion of two knives, and told interrogators that he meant to attack any Israelis he came across.