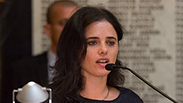 Terrorism Law approved with penalties for attacks laid out in statute
The minister of justice's flagship and comprehensive bill passed its 2nd and 3rd reading in the Knesset 57–16; it lays out the sanctions to be implemented for different actions relating to and supporting terrorism; Shaked: 'There is no reason for terrorism. There are excuses.'
The Knesset approved 57–16 on Wednesday the second and third reading of the Terrorism Law, which has been Minister of Justice Ayelet Shaked's flagship bill since she received the portfolio. It will thus enter the Israeli criminal code.

The bill began under Tzipi Livni when she was the minister of justice. It expands the tools used to handle terrorism via criminal and legal mechanisms, extends the maximum sentence for carrying out various terrorism-related crimes to 30 years, anchors in law administrative detentions, and sets sanctions for multiple kinds of terrorism-related offenses.

According to the new law, anyone who heads a terrorist organization, directly or indirectly, will be sentenced to 25 years' imprisonment. However, if that group carries out attacks, its leader will be sentenced to life in prison. The same sentence is fixed for those who carry out an act of terrorism with chemical, biological or radioactive weapons. Those who receive life sentences will not be able to apply for parole for the first 15 years of their term.

In addition, every person who carries out an arms transaction for terrorist purposes is to be sentenced to 20 years in prison or a fine in an amount ten times the regular fine as set by law. Those in administrative roles in terrorist organizations can expect a punishment of ten years' imprisonment with a possible extension of a further five years if their actions were criminal. Anyone who commits a property related to terrorism will be subject to penalty of 10 years' imprisonment or a fine of 20 times the regular fine set by law.

Anyone who trains terrorists will be subject to a prison term of nine years; if they recruited new members to the terrorist organization during their training, or if they carry out operations for the organization, including threatening to carry out an act of terrorism, then they will be liable for a penalty of a further seven years,

A significant part of the new law is the sentence requirements for anyone who aids terrorists. Those who do will be subject to penalty of five years' imprisonment. The same sanction applies to those who provide services or means to terrorists, unless it is proved that they were not aware that the organization was in fact a terrorist one.

Three years' imprisonment will be imposed on anyone who makes a public act of solidarity with a terrorist organization, including publishing praise, support or sympathy, waving a flag, displaying or playing posts with slogans or anthems. A similar punishment will apply to those who do not prevent an act of terrorism. Two years have been laid out as the prison term for those who advertise or provide advertising services for material demonstrating solidarity with a terrorist organization.

The new law will also allow the minster of defense or the government to declare an organization to be a terrorist organization by an order on the basis of a pre-application from the head of the Shin Bet and after receiving the attorney general's recommendation. The Security Cabinet will also be able to make such a declaration if a qualified organization or the UN Security Council declares the organization in question to be terrorist.

After the law was approved, Shaked said, "The terrorist attacks in Orlando and Tel Aviv show more than ever that there is no reason for terrorism. There are excuses. Only by comprehensive punishment and deterrence will it be possible to beat it. Today, the Knesset and the State of Israel became the world spearhead of the war on terrorism. Terrorism in its 2016 form is receiving a 2016 response. I am grateful to the Constitution Committee, headed by MK Nissan Slomiansky for pushing the law through. I thank the deputy attorney general, Raz Nazari, and Naama Feuchtwanger from the (Criminal) Legislative Advice Department for the work in preparing the law.

The chairman of the Constitution Committee, Nissan Slomiansky, said, "Today the Terrorism Law was approved that has been delayed for more than six years. The law adds to and strengthens the authority of security services to fight terrorism. It also cancels some 60 emergency directives from the British Mandate error, and it is drafted with immense expensive, which the State of Israel unfortunately has in the war on terrorism."

Livni welcomed the law's passing, saying, "The law will provide new and better tools to Israel in the fight against terrorism, tools that haven't changed since 1948, and it is especially necessary in light of the continued wave of terrorism during the past year."