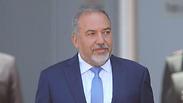 Avigdor Lieberman
Photo: Motti Kimchi
Minister of Defense Avigdor Lieberman is to fly on Saturday night to Washington, DC, to meet with his American counterpart, US Secretary of Defense Ashton Carter. The following Wednesday, Lieberman is to participate in a rollout ceremony for the advanced F-35 warplane that has been purchased by the Israeli Air Force.

Unrelated to the minister's trip, the White House announced on Tuesday night that it was opposed to an Israeli request for an additional $455 million to be used for anti-missile defense systems. The declaration came in a letter to Congress dealing with an Israeli request to increase funding for anti-missile defense systems in the Jewish State.

The letter to Congress was six pages long and was sent following a congressional decision to increase Israeli military aid, and against the backdrop of tensions between the Obama administration and Prime Minister Benjamin Netanyahu on a new and multi-year aid package.

The letter said that Obama's advisors may recommend that the president use his veto power if Congress passes the aid package increase.

In the section dealing specifically with Israel, the White House said, "Furthermore, the Administration opposes the addition of $455 million above the FY 2017 Budget request for Israeli missile defense procurement and cooperative development programs."

The Prime Minister's Office responded to this development, writing, "There has been no cut in American assistance. There is an internal debate between Congress and the White House on the size of the annual supplement to the missile defense program.

"Prime Minister Netanyahu is working to anchor this supplement as part of the discussions on the assistance agreement for the next ten years.

"Not only will security assistance for missile defense not be cut, it will be increased."

National Security Council Acting Chairman Yaakov Nagal said on Wednesday evening in a briefing to political correspondents that Israel is interested in signing the new defense aid package with the US before Obama finishes his term. However, he specified that this was "not at any price."

Nagal noted that there is no connection between the White House's letter and the Israeli-American negotiations on defense aid. "The White House announced that it was opposed to adding $455 million for missile defense. They think that adding 455 (million) is too much and want to make it smaller. There's no crisis here and no reason to worry. We are in negotiations to reach the best deal possible for the people of Israel, and we are almost at the end of the process.

Nagal said that a strategic dialogue will take place between Israel and the US on Thursday morning on a number of subjects. A large American delegation, headed by Deputy Secretary of State Tony Blinken, will come to Israel. Those talks will not encompass military aid, which is being handled on the American side by American National Security Advisor Susan Rice and by Nagal on the Israeli side.