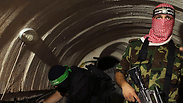 Hamas attack tunnel
Photo: Reuters
Israel to build underground wall around Gaza Strip
Yedioth Ahronoth reveals Israel's plan to build a concrete wall tens of meters deep underground and aboveground to counter the threat of Hamas attack tunnels. Senior defense official: 'a confrontation with Hamas is inevitable, it must be the last one.'
Israel's defense establishment's plan to build a concrete wall tens of meters underground as well as aboveground along the Gaza Strip border was revealed by Yedioth Ahronoth Thursday morning.

It has previously been estimated that such a project would cost tens of billions of shekels. However, under the new plan the construction costs are estimated to reach NIS 2.2 billion.

The wall will stretch along the 60 miles of the southern border around the Gaza Strip, and will in fact be the third defense system of its kind Israel has built along the border.

The first 60-kilometer barrier was constructed in 1994 following the Oslo accords while the second system was built following the decision to disengage from Gaza in 2005. Neither of the efforts, however, provided comprehensive solutions to the threat of attack tunnels.

A senior Defense Ministry official on Thursday announced at a press briefing that the next confrontation with Hamas would be the last one. The question of how this announcement is consistent with a plan to build a wall, which is essentially a defensive program, is open to interpretation.

"We have no desire to rule over Gaza, and as long as there is no alternative government there, we have no business being there," said the senior official. "But on the other hand we cannot conduct a constant war of attrition. Therefore the next conflict has to be the last conflict in terms of Hamas ruling the Strip. We are not looking for an adventure, but a confrontation with Hamas is inevitable. It is an ongoing and growing threat and we need to be prepared for it. "

In a parallel effort, the IDF is currently erecting a wall around sections of the border with Lebanon, adjecent to which a number of Israeli towns are located. Construction of the wall was decided following public proclamations by Hezbollah leader, Hassan Nasrallah, to attack civilian towns and hold on to them for a day or two.

At present, there a fence already exists along the border, but the wall is intended to make an infiltration of enemy forces even more difficult.