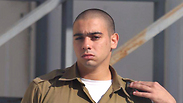 A pathologist from the Abu Kabir Forensic Institute, testified Thursday at Jaffa military court that the neutralized terrorist that Sgt. Elor Azaria shot last March, was alive when the fatal bullet hit his head.
"Bleeding in the brain suggests that the heart of the deceased was still beating when the bullet hit his head, since blood was still flowing to that zone," Dr. Hadas Gips said.
Asked what the pathological findings reveal regarding the rest of the terrorist's wounds prior to Azaria's shooting, Gips replied, "The other wounds found on his body were not immediately fatal and if he had received appropriate medical treatment he would still be alive. Even without receiving medical attention he would most likely still be alive."
Asked by the defense team about the potential consequences of the shootings which preceded Azaria's intervention, Gips noted: "Regarding the number of shooters I have no way of knowing, and it depends on the examination of shells in other laboratories. If it is a matter of a second or two between shots – it is not possible to determine their order. Even after a shooting to the head which paralyzes the brain centers, the heart continues to beat sporadically. So if the deceased was shot in the head beforehand in the head, I would not find the bleeding in other parts of the body that are not in the brain. Therefore the shot to the head was the last shot."
In response to the question of whether there could be movement in the limbs after brain's failure to function, Gips replied, "if the defense is asking whether the deceased was alive and the rest of the body was functioning then there could be small muscle cramps but I have reservations about this and this is the domain of neurosurgeons more familiar with this issue than I am."
Last week the court heard the testimonies of the Palestinian cameramen who documented the incident for left-wing NGO B'Tselem.
Among those providing testimony was Imad Abu Shamsiyah, who claimed that he did not edit the controversial video.
Azaria's defense team has cast doubts in recent months regarding the credibility of the controversial videos and has suggested that they may have been "cooked up during editing."
The conclusions of an expert from the DIFS (Division of Identification and Forensic Science), which will consist of dozens of pages, will be brought before the military court on Wednesday. Its conclusions are expected to be that B'Tselem's videos are authentic since they were forwarded to the Criminal Investigation Division (CID) Military Police the morning of the incident, with the original memory card of the camera that documented the incident.