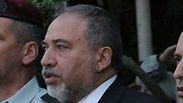 Defense official: The next war with Hamas will be their last
Analysis: Although Lieberman and Eisenkot see eye to eye on major issues, they still aren't in sync regarding the Palestinians; Lieberman views them with as top of the agenda, rest of defense establishment believes there are more pressing issues
High ranking defense officials appear to indicate that Defense Minister Avigdor Lieberman and IDF Chief of Staff Gadi Eisenkot see eye-to-eye on building up the IDF's strength, military working plans, and ethical standards. There is a consensus between the two on how to deal with Hezbollah and the civil war in Syria, and on policies of mutual cooperation with Egypt and Jordan.

However, when it comes to dealing with the Palestinians, the two are at odds. Defense Minister Lieberman believes that the Palestinian Authority and Mahmoud Abbas should be a top priority, even more than Hezbollah and Hamas. This goes against the IDF's assessments.

A high ranking official in the Ministry of Defense claims that Israel is strong militarily but weak politically, and Abbas takes advantage of this fact.

"I call it 'political terror,'" he said, adding that Abbas isn't interested in progress and that negotiations won't lead anywhere.

According to him, "Mahmoud Abbas hasn't been to Jenin or Nablus in over eight years, yet he's visited Paris, London, and Brazil dozens of times." The official believes that this is one of the reasons that Abbas has lost his legitimacy to be Palestinian ruler.

While the IDF's top command is satisfied with Israel' cooperation with the Palestinian security forces, saying it helps prevent terror, the Defense Ministry official claims that "the cooperation is more important to Mahmoud Abbas than it is to us. I don't understand why we treat (this cooperation) as if it is a Palestinian goodwill gesture towards Israel."

Meanwhile, the eyes of the defense establishment are turned towards Gaza in the south, and is preparing for the next conflict there. The official clarified that the objective in the next war in the Strip will be to completely topple the Hamas government, and that the IDF will have the confidence to destroy its military wing.

"We don't want to control Gaza," he said, "and as long as there isn't alternative (to Hanas), we don't have any business being there."

"But at the same time," he continued, " we can't have an unending war of attrition there. Therefore, the next conflict needs to be the last one with the Hamas government in Gaza. We aren't looking for any adventures, but a conflict with Hamas is unavoidable. It is an ongoing threat, and we have to be ready and prepared for it."

The official also assessed that a third Lebanon war isn't on the horizon, saying "the most dramatic turnaround the IDF chief of staff did was in regards to the military's readiness and preparedness for war."