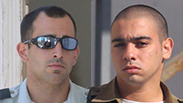 Elor and his company commander
Photo: Motti Kimchi
Sgt. Elor Azaria, who is on trial after shooting dead a neutralized attacker, told his company commander that the terrorist "needed to die," the commander told the court on Thursday.

"I asked who fired their weapon," Maj. Tom Na'aman testified. "I didn't think it was one of my soldiers. I saw Elor walking with his rifle and asked him who gave him permission to fire and asked why he did it. He told me 'the terrorist was alive, and he needed to die.'"

In late March, two Palestinian terrorists armed with knives stabbed a soldier at an IDF post near the Tel Rumeida neighborhood in Hebron, moderately wounding him. The two were shot and neutralized by soldiers from the IDF's Kfir Brigade. A video filmed several minutes later by B'Tselem volunteer Emad abu-Shamsiyah shows one of the terrorists, Abed al Fatah a-Sharif, lying on the ground motionless, when an IDF soldier, Azaria, aims his weapon at him and shoots him in the head.

A pathologist testifying earlier in the day determined that a-Sharif was alive when Azaria's bullet hit his head.

"Bleeding in the brain suggests that the heart of the deceased was still beating when the bullet hit his head, since blood was still flowing to that zone," said Dr. Hadas Gips of the Abu Kabir Forensic Institute.

According to Company Commander Maj. Tom Na'aman, after the terrorist was first neutralized, he went over to the body. "I stood over him and looked at him and didn't feel that he posed a threat. His eyes were shut and appeared to have rolled into the back of his head. There was some movement of his head from side to side, but he didn't pose a threat," he said.

He also noted that "No one had called my attention to the fact there was a terrorist who posed a danger. There was no claim to this effect. I had no suspicions (the terrorist had) a bomb or a suicide belt."

"In our briefings, we talk about the dangers posed by shootings or by stabbings. There was no justification for Elor to discharge his weapon," Na'aman asserted.

Defense attorney Ilan Katz asked the company commander: "What was your understanding when Elor said 'he needs to die?' Was it for revenge?"

The company commander replied "I don't know if it was revenge, but what I understood this to mean was 'this is the terrorist who wounded my friend – therefore he needs to die.' He didn't say anything about any danger."

Describing how the incident began, the officer testified that "there was screaming in the neighborhood, so I ran to the location with the understanding that an attack had occurred. I saw a soldier sitting on the sidewalk and the division commander was holding a bandage to the soldier's shoulder."

"There was blood in the area, and one of the terrorists was lying next to them with a severe wound to his neck ... Ten seconds after I arrived to the location, Elor came (from the military post) and I told him to take care of the wounded soldier."

Na'aman then received an update from the division commander and was told that four or five bullets had been fired at the first terrorist, wearing a gray shirt, and three additional bullets were fired at the second terrorist, Abed al Fatah a-Sharif, who Azaria later shot as well.

"I knew at that moment that the terrorist in the gray shirt was dead, but I wasn't sure about the second one. The division commander told me that (the second terrorist) was also dead," Na'aman continued.