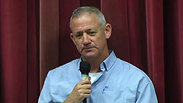 Benny Gantz
Photo: Eli Mandelbaum
Former IDF chief: Israel not under existential threat
Benny Gantz, speaking at an academic conference on Friday, stated that, while current threats may develop into existential ones, they are not so currently; he stated that ISIS must not obtain chemical weapons and that Israel's national cohesion is the secret of its strength.
Former IDF chief of staff Benny Gantz said on Friday at an academic conference that the State of Israel is not currently under an existential threat. However, he did say that he presumes that threats do exist that have the potential to become existential, such as the Iranian nuclear program or if ISIS were to get its hands on chemical or biological weapons.

Gantz was speaking at a conference of the Open University in Haifa, and he refused to address the statements of former IDF chiefs of staff and defense ministers Moshe Ya'alon and Ehud Barak on Thursday at the Herzliya Conference. However, Gantz intimated that he would prefer activity with social, rather than political, components. On Thursday, Gantz announced that he would be joining former IDF chief of staff Gabi Ashkenazi in a new educational movement, Pnima ("inside"), that former minister of education Shai Piron intends to establish. Piron himself denied that Ashkenazi and Gantz are joining and said that the details have not yet been fixed.

Gantz added that if ISIS obtains chemical weapons, they will assuredly use them. Therefore, it is important to focus on developing the IDF's intelligence and offensive capabilities, not just in relation to ISIS, but also in regards to other threats to the country.

"We need to completely overcome ISIS until the phenomenon disappears," said the former chief of staff. "This is a kind of idea and kind of organization whose existence the free world cannot accept. We need to conduct a ground war, including international forces, but making sure that local coalitions in the Middle East will ensure that the phenomenon does not recur."

The lieutenant general in reserves stated that it was his opinion that there will be no end anytime soon to the wars currently tearing apart the region and that we can expect "a generation of chaos" that will last more than a decade. Against Iran, said Gantz, we need intelligence, the ability to negotiate and cooperate with international bodies, to develop military defensive and offensive capabilities, and that the West needs to get closer to the Iranian people.

Regarding the current situation in Israel, Gantz said, "We must not forfeit our values and our way of life during this war on terrorism. Changing the values and way of life in Israel and the western world in general, would be a triumph for terrorism. We must also strive to offer the Islamic world an alternative to the jihadist idea. And most of all, Israeli society needs to maintain internal cohesion and unity. This is the secret of our national strength, and we must not allow factors to divide us and tear apart our society from within. Unity and solidarity are the sources of national strength, and, without them, we will not be able to handle the security challenges.