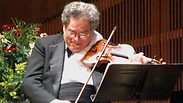 Perlman performing
Photo: Dan Porgas
The violinist-optimist
It's hard for Itzhak Perlman to count all the decorations and medals that he's received, including three from different US presidents, but winning the Genesis Prize, which will be awarded to him in Israel along with a million-dollar check, is particularly moving for him, but also something of a headache; "It's a very Jewish prize, because everybody wants a piece of it," said the violin virtuoso who overcame polio and never backed down from fighting any kind of discrimination.
New York — When he sits on a stage, sets his violin beneath his chin and begins to play, Itzhak Perlman is not just one of the greatest musicians that the world has ever seen—he is also a movie star. Dramatic, charismatic, full of pathos. But offstage, there's nothing that he hates more than drama, and something really extreme has to happen to cause him to make one. Last month, one took place.

The state of North Carolina passed HB2, a law discriminating against LGBT people, depriving them of their basic civil rights, and primarily humiliating transgender people by forcing them to use the public restrooms that correspond to the sex written on their birth certificates. The law led to a long slew of performers' cancellations in a boycott against the state that included Maroon 5 and Bruce Springsteen.

Perlman, the Springsteen of his field, had a concert scheduled in the state's capital, Raleigh with the North Carolina Symphony. His first instinct was to cancel. "But then I thought," he explained in his bass, radio voice, "What about the symphony? They aren't guilty."

Perlman performing at the White House for Shimon Peres and Barack Obama in 2012:

He decided to donate the proceeds from the performance to a North Carolina LGBT advocacy group, and he wanted to put a statement in the program that explained his position on the law. It seemed to him to be a reasonable and drama-free solution. But then came a call from the symphony's management saying that his statement could not be included. An order from above in the state-owned symphony.

Perlman sighed and made some drama. The announcement of his cancellation generated the expected noise. "It's an ugly law," he said. "It's not a matter of bathrooms; it's minimal respect for people. I feel obligated to oppose it."





In the past, the Israeli-born violinist had refused to play in South Africa during the apartheid regime, and he refused an invitation to perform and record with one of the greatest conductors in history, the Austrian Herbert von Karajan, who had been a member of the Nazi party.

"I know from up-close what discrimination looks like; I've seen it my entire life as a person with disabilities. How would I live with myself if I didn't say something? I'm not ready to be on the wrong side of history. I couldn't allow myself. I have a special obligation to speak out against injustices."

Because you're the most famous violinist in the world or because you're a Jew?

"Because I'm a human being."
'I have two passports, and I love both of them'
Perlman is an extraordinary human being. Rarely are you the best at what you do. More rarely are you the best despite life's having tried to hold you back. And even more rarely, you don't let all that change you.

At 70 years old, after having won every price, medal and honor possible, at the peak of his happy life, nearly 50 years with the same wife, five successful children, grandchildren, and all the justification in the world to rest a little, Perlman spends his summer teaching children to play the violin.

"During the summer, I don't play at all, just teach; it's my vacation," he shared in his office at the Perlman Music Program, founded by his wife, Toby, in Long Island.

What kind of a teacher are you?

"I think an okay one," he laughed a sonorous, free laugh, and not for the last time in our conversation. "I'm not old fashioned; I don't believe in forcing students, and I remember how much I hated practicing myself. My first teacher would blame my parents if I didn't play well, 'You don't make him practice!' Even today, I hate practicing, but at least I understand that it's important."

How do you identify talent?

"Sometimes it's enough to look them in the eye. Once a child understands what he's playing, I can identify that in his playing. The really talented have special instincts and an ear that reacts in a way that others don't."

Can anybody learn to play? If I practice 12 hours a day, will my zero talent turn into something?

"Maybe. They say that a good teacher is measured by what he manages to get out of average talent, not out of geniuses. Sometimes, you teach someone for two years, and suddenly, during a lesson, something happens, this thing that you've been waiting for breaks out. It can bring me to tears. But zero talent is maybe a bit of a problem," he laughs aloud again.

Next week, Perlman and his wife will be coming to Israel for him to be awarded the Genesis Prize by the prime minister. The prize, nicknamed the "Jewish Nobel," "honors individuals who have attained excellence and international renown in their chosen professional fields, and who inspire others through their engagement and dedication to the Jewish community and/or the State of Israel," according to the Genesis Prize Foundation.

The inaugural laureate in 2014 was New York's former mayor, Michael Bloomberg, and last year's was the actor Michael Douglas. The prize is in its third year of honoring seminal figures, and Perlman is no newcomer to that descriptor.

He has received 16 Grammys, including one for lifetime achievement, four Emmys, and three presidential medals, each awarded by a different president. He participated in Sesame Street, performed John Williams's famous theme in Schindler's List, and played at Barack Obama's first inauguration.

Alongside his previous accolades, the Genesis Prize may somewhat pale in comparison, but Perlman is very moved, even though he's a bit bothered by the accompanying condition of the million-dollar prize. It must be donated to good causes, and there are so many that it's hard for him to choose.

"It's a very interesting prize," he said. "You get a million dollars so that you can give it back. It lets me support things that I normally can't. A kind of tikkun olam ("world repair").

"It's also a very Jewish prize, because everybody wants a piece of it, and it's a headache. Normally, you get a prize, they tell you, 'There's a ceremony. Come, enjoy.' Here they said, 'There's a ceremony. Come, enjoy, and then get to work.' It's not simple, whom to give it to. I tell you, it's not easy." He sighed and laughed again, very entertained.

"But seriously, it's moving, really a big honor. The problem is that it's all the older people who get more prizes. I was the same person 20 years ago, and I didn't get all this honoring. Now I'm 70, and I'm always getting prizes. What am I supposed to understand from these hints?"

You've lived in American nearly your entire life. Are you Israeli, American, or a citizen of the world?

"I'm an Israeli first. I was born in Israel. I still have some family in Israel, and when I come to Israel, I'm coming home. But I've been here since 1958, so I certainly have a lot of Americanness in me. I have two passports, and I love both of them."

They say that the Jewish community here is pulling away from Israel. Do you see this?

"It's possible, but I insist on being optimistic. We've always had problems—problems are our default. Sometimes it feels particularly complicated, but I've been optimistic all my life, and now I'm too old to change."
Becoming a legend
Many things have turned Perlman into a legend. His refusal to submit to the limitations imposed on him is one of them. Seeing him going up on stage always simultaneously pained your heart and inspired. He proceeds very slowly, as upright as possible. He settles slowly, rests his crutches on the ground, lifts his violin and begins to produce magic with his giant hands.

In 1995, Perlman took to the stage of Lincoln Center in New York's Upper West Side. He played the first three notes, and then one of his violin strings snapped. Another violinist could simply have arisen from his chair, left the stage for a minute, and returned with another violin. But in Perlman's case, this would be a long and difficult procedure.

So he closed his eyes and signaled for the symphony to start again. And he played. With one string down. When he finished, the momentary silence in the hall erupted like a volcano into thunderous applause.

Perlman was born in a tiny apartment in Tel Aviv. Not so much an apartment as a room without a shower. His parents, Chaim and Shoshana, came from Poland at the beginning of the 30s, and Itzhak was their only son. "They just came to Palestine, each of them separately. My mother opened a salon, met my father, and taught him how to cut hair."

At three years old, a young Perlman decided to become a violinist. "I heard the sound of a violin on the radio, and I said, 'I want to do that,' I'm not sure that I said that I wanted my life to be that, but I wanted that sound."

At the age of three?

"Yes. It's not that surprising. It happens a lot to young people; you can't explain why. You hear a sound, and it doesn't leave you."

When did you get your first violin?

"That same year. I played, I was awful, and I threw it out. After a year, I got another one."

What else happened that year to the young Perlman was polio, just four years before Salk developed the vaccine. He woke up one day and couldn't walk.

"I wasn't scared; I just couldn't explain it. I was in the hospital for a few weeks. I vaguely remember that I didn't understand what was going on. But children adapt quickly. It's not like I'd been jogging in the park for decades, and I suddenly couldn't walk. So I learned to walk with crutches and supports, and I don't know another reality."

How do you keep from becoming bitter?

"I differentiate between ability and disability. I adapted quickly, thanks a lot to my parents. My parents weren't bitter. They didn't let me feel, even for a second, that something was wrong with me. On the contrary, they dedicated their lives to helping me become what I am, and I leaned from them not to get angry."

The last significant event that happened to Perlman before he left Israel was his bar mitzvah. His parents bought him a globe as a gift, and he was happy. A short while afterwards, his life changed forever. Again.

Ed Sullivan came to Israel to look for talent to appear on his show. He set up auditions, and Perlman was selected to travel with his mother to New York, where they settled. His father joined them later, and the rest is truly history.

Perlman began to perform with the best symphonies and conductors in the US. After one of his performances, a young woman came named Toby came up to him backstage with a forward proposition. "I was 17 years old; she just came and said, 'We have to get married,'" Perlman bursts out laughing, "I looked at her, and said, 'Uh, okay.' We got married four years later, and we've been together ever since. She's my better half."
Becoming a different person
Amongst the dozens of prizes that Perlman has earned over his illustrious career, three of them stand hand and shoulders above the rest. The first was the Medal of Liberty, awarded by President Ronald Reagan in 1986 to twelve outstanding naturalized US citizens, including Bob Hope, Irving Berlin, I. M. Pei, and Eli Wiesel. The second was in 2000, when President Bill Clinton presented him with the National Medal of Arts, awarded by the National Endowment for the Arts.

The third was last year, when President Barack Obama bestowed on Perlman his adopted nation's highest civilian honor, the Presidential Medal of Freedom. From all these experiences, Perlman remembers with the greatest emotions how he sat at the latest ceremony alongside the baseball legend Willie Mays. "Oy, that made everything worthwhile."

Obama is a big fan.

"I wouldn't pretend to think so, but I'm a big fan of his. He's a very elegant man, and he knows a lot about a lot. He is indeed a friend of Israel; there are lots of people say that he isn't, but it just isn't true. It will be very sad for me to see him leave."

And to get Trump in his place?

"I thought that we weren't going to talk about circuses. We're talking about a circus now."

A scary circus.

"Extremely scary. I insist on believing that something like this wouldn't happen. Every time that he opens his mouth, I think, 'That's it; that's the thing that's going to finish him,' but history has taught us that we need to be careful and extremely alert."

Where do you keep all those medals?

|I have a special case—a trophy case. I'm the same person that I was before all the medals, but, obviously, it's very nice and flattering. I read about someone who won the Nobel Prize and sold it. I won't sell anything."

Out of your thousands of performances, is there one that you remember in particular?

"There are a few, but my first performance with the Israeli Philharmonic was something. A dream come true. When I still lived in Israel, when I was in 6th grade, I think, I sent a letter to the symphony, and I asked them to let me perform with them. They never answered, so the day that I performed with them was really significant. I still have that letter at home today."

May I ask how's your health?

"My health (is well), thank God. I'm waiting to come to Israel, receive a great honor, and of course, to become a totally different person."