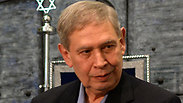 Tamir Pardo.
Photo: Kobi GIdeon/GPO
Former Mossad director Tamir Pardo is joining the board of directors of the American non-profit United Against Nuclear Iran (UANI), which operates internationally in an effort to raise awareness of the dangers posed by the Shiite state's regime.

UANI's membership also includes former US senator Joe Lieberman, former American special Middle East government coordinator Dennis Ross, former Spanish foreign minister Ana de Palacio, former heads of the CIA, and former Australian defense minister Robert Hill. UANI also works to convince international corporations not to do business with Iran.

UANI was founded in 2008 by ambassador Mark D. Wallace, the late ambassador Richard Holbrooke, former CIA director Jim Woolsey and Middle East expert Dennis Ross.

In addition to Pardo, former US ambassador to the United Nations John Bolton and former Polish foreign minister Radosław Sikorski have also joined UANI.

According to Pardo, the world's leading powers should not ignore the clear dangers posed by the Iranian regime, which he says threaten the personal safety and freedom of people both inside the country's borders and in the world at large. He expressed his satisfaction at being part of the UANI board.