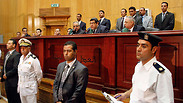 The Egyptian court, conveying Morsi's death sentence, 2015.
Photo: AP
Egyptian Court sentences Morsi to 40 years; others sentenced to death
The former president was given a severe sentence for the fourth time by a court in his country; six other defendants in the case were sentenced to death; Morsi has previously been sentenced to life in prison and death in other cases.
An Egyptian court on Saturday sentenced former president Mohamed Morsi to 40 years in prison after he was convicted on charges relating to an espionage case involving the alleged passing of classified Egyptian documents to Qatar. Six other defendants in the case, including two Al-Jazeera employees, were sentenced to death.

Morsi, the case's top defendant, and two of his aides were sentenced to 25 years in prison. Morsi and his secretary, Amin el-Sirafy, each received an additional 15-year sentence for a lesser crime. El-Sirafy's daughter, Karima, was also sentenced to 15 years in prison.

Morsi was ousted by the military in July 2013 and has already been sentenced to death in another case. That death sentence and another two -- life and 20 years in prison -- are under appeal. His Muslim Brotherhood group was banned and declared a terrorist organization after his ouster.

The trial in the Quatar papers affair involved the alleged transfer of sensitive classified documents relating to Egypt's national security to the Gulf state, which is a known supporter of the Muslim Brotherhood.

Morsi has been in confinement at the secluded Burj Al Arab prison in Alexandria since his ouster in July of 2013. In May and June Egyptian courts sentenced him and several others to death for their alleged role in a prison break that took place during the uprising that led to the ouster of former President Hosni Mubarak in early 2011.

Morsi was also sentenced to life in prison (25 years) for his alleged part in another affair, in which he was accused of conspiracy and spying for foreign bodies such as Hamas, Hezbollah, and the Iranian Revolutionary Guard Corps. Prior to that, he was given a 20-year sentence for his part in suppressing protests by demonstrators opposed to him in Cairo in 2012.

Morsi has, more than once, spoken out against the judges in his trials, saying that he was the country's legitimate president, and that their rulings were irrelevant. Due to these remarks, he's also being tried for contempt of court.

It should be noted that even if Morsi's death sentence is given final approval in the courts, which still requires a complex legal journey, it will have to receive final approval from current President Abdel Fattah al-Sisi.
Death sentences
The two Al-Jazeera employees - identified by the judge as news producer Alaa Omar Mohammed and news editor Ibrahim Mohammed Hilal - were sentenced to death in absentia along with Asmaa al-Khateib, who worked for Rasd, a media network widely suspected of links to Morsi's Muslim Brotherhood.
There was no immediate comment from Al-Jazeera on Saturday's verdicts, but a news story on the Al-Jazeera English website identified Hilal as a former director of news at Al-Jazeera's Arabic channel and said Alaa Omar Mohammed was an Al-Jazeera employee until last year.
The three other defendants sentenced to death Saturday are documentary producer Ahmed Afify, EgyptAir cabin crew member Mohammed Keilany and academic Ahmed Ismail.
The defendants' lawyers announced their intension to appeal the sentences.
Judge Mohammed Shirin Fahmy recommended the death sentence for the six last month. Under standard procedure in cases of capital punishment, his recommendation went to the office of Egypt's Grand Mufti, the nation's top Muslim theological authority, for endorsement.
Fahmy quoted the Mufti's office as saying the six had sought to harm the country when they passed to a foreign nation details of the army's deployment as well as reports prepared by intelligence agencies.
"They are more dangerous than spies, because spies are usually foreigners, but these are, regrettably, Egyptians who betrayed the trust."
"No ideology can ever justify the betrayal of one's country," the judge added.
Egypt's relations with Qatar have been fraught with tension since the ouster of Morsi, who enjoyed the support of the tiny but wealthy Gulf state. Cairo also maintains that Al-Jazeera's news coverage of Egypt and elsewhere in the Middle East is biased in favor of militant Islamic groups.
Last year, President Abdel-Fattah al-Sissi pardoned two imprisoned journalists from the Al-Jazeera English news network. Mohamed Fahmy, an Egyptian-born Canadian, and Egyptian Baher Mohamed were arrested in December 2013. They had been sentenced to three years in prison for airing what a court described as "false news" and coverage biased in favor of the Muslim Brotherhood.
The prosecution of the two, along with Australian Peter Greste -- another Al-Jazeera English reporter who was deported in February last year -- drew strong international condemnation.
Their long-running trial was entangled from the start with the wider political enmity between Egypt and Qatar following Morsi's ouster.