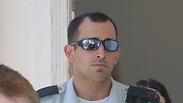 Maj. Tom Na'aman (Photo: Motti Kimchi)
Top brass support officer testifying against Elor Azaria
Several high-ranking army and political officials released statements of encouragement and support of Tom Na'aman, who testified against Elor Azaria for shooting an unarmed Palestinian terrorist; Since testifying, Na'aman has received severe criticism and even threats.
Several members of the highest military and political echelons came to the defense of Maj.Tom Na'aman, who in March had served as company commander when his soldier, Sgt. Elor Azaria, shot and killed Abed al Fatah a-Sharif, a Palestinian terrorist who had already been neutralized and disarmed.

Among those who showed their support for Na'aman was IDF Chief of Staff Gadi Eisenkot, who met with him on Sunday. Eisenkot expressed his full support and stressed that the IDF expects of all of its soldiers to state the truth.



Eisenkot added that it is essential to allow the military court due process in Azaria's case without external interference, and to allow witnesses from both the prosecution and defense to speak without fear of repercussions. "Any attempt to apply pressure on those involved in the trial is reprehensible," he said.

Former defense minister and IDF chief of staff Moshe Ya'alon also condemned the threats Na'aman has received since testifying against Azaria. "The wild incitement against Company Commander (Na'aman) serves as a further transgression that must be stopped. I call on our leadership to stop subtly courting an extremist minority, to unequivocally come out against this occurrence and express basic and moral support for a soldier and commander who has shown courage well beyond the battlefield."

Since testifying against Azaria, Na'aman has come under attack from the extreme right, which has labelled Na'aman a "terrorist" and a "disgrace to the State of Israel." Na'aman has further been the subject of a shaming campaign on social media.

Na'aman gave his testimony on the matter at a military court last Thursday during which he described the course of events the day of the shooting. "Elor told me, "The terrorist is alive and he should be dead.' I was angry at him for firing his weapon under my jurisdiction without my approval. I took him aside and told him to stay put. There was no military justification for Elor's shooting," Na'aman stated.

The incident occurred after a-Sharif and another Palestinian stabbed an IDF soldier in Hebron. The soldier was moderately wounded and eventually both Palestinians were neutralized. A video of the event that came out shortly after shows that following the attack, a-Sharif was lying on the ground when Azaria aimed his weapon at him and shot him in the head. A pathologist's testimony confirmed that a-Sharif was alive when Azaria shot him.