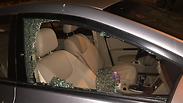 Car windows smashed after struck by rocks
IDF forces shot and killed a young Palestinian boy overnight Monday in what appears to be a case of mistaken identity, following a terrorist attack which wounded two foreigners and one Israel on Route 443.
An Israeli and two foreigners in their twenties were lightly injured and taken to Shaare Zedek Medical Center when rocks and Molotov Cocktails were hurled at a passing vehicle on the main highway. The terrorists also poured oil on the main road.
The soldiers were travelling on the main highway when they spotted the oil stains on the road which appeared to have been deliberately poured in order to cause Israeli casualties.
Scene of the attack
Shortly thereafter, the soldiers noticed a Palestinian vehicle on the road parallel and mistook it for the vehicle belonging to the terrorists. According to initial reports, the soldiers approached it and opened fire, injuring 2 Palestinians and killing one 15-year-old boy.
The wounded Palestinians were evacuated to a government hospital in Ramallah while another was taken to Hadassah Ein Karem. Two suspects were arrested and taken in by the security forces for investigation.
Initial reports indicated that the15-year-old boy had been involved in the incident. However, the IDF spokesperson's unit later clarified that he was probably not.
The car windows of the victims were completely shattered as a result of the rocks slung at them. Two of the male victims were discharged from Sha'arei Tzedek hospital while a woman - also in light condition remained for further treatment.
Also overnight, the IDF and Israel Border Police demolished the home belonging to the terrorist who carried out a stabbing attack in Jaffa at the beginning of March.
The attack, committed by Bashar Masalha, a 22 year-old illegal alien from a village near Qalqilya, left several dead including Taylor Allen Force, 28, a former Officer in the US Army, who served in Iraq and Afghanistan.
Bashar attacked Force and his wife, who were walking not far from the city's famous clock tower square, and began to stab them. Others were killed in the attack and 11 more injured
In a seperate overnight operation, the IDF, Israel Border Police and the local police arrested 12 wanted suspects, six of whom are suspected of involvement in terror, disruption of public order and violence toward civilians and security forces.