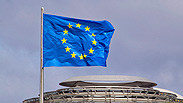 The European Union's flag
Photo: Reuters
The European Union's Foreign Ministers Council welcomed Monday the French initiative to renew negotiations between Israel and the Palestinians following deliberations in Luxembourg on the situation in the Middle East.
"The Council welcomes the Joint Communiqué on the Middle East peace initiative adopted at the Ministerial meeting in Paris on 3 June 2016," the ministers said in a joint statement issued following their meeting in Brussels on Monday.
"The Council reiterates its support for a just, sustainable and comprehensive resolution of the Israeli-Palestinian conflict, and peace and stability in the region."
The statement called on both sides "to demonstrate, through policies and actions, a genuine commitment to a peaceful solution in order to rebuild mutual trust and create conditions for direct and meaningful negotiations aiming at ending the occupation that began in 1967, and resolving all permanent status issues."
"The EU is determined, alongside other international and regional partners, to bring a concrete and substantial contribution to a global set of incentives for the parties to make peace," the statement went on to say.
"The Council also reaffirms the European proposal, as endorsed in the Council Conclusions of December 2013, of an unprecedented package of political, economic and security support to be offered to, and developed with, both parties in the context of a final status agreement."
Foreign Ministry spokesman Emmanuel Nachshon reiterated Israel's position, saying "peace with the Palestinians will only be achieved through direct, bilateral negotiations without preconditions."
"International conferences like the one welcomed by the EU council drive peace away by allowing the Palestinians to continue avoiding direct negotiations and compromises," Nachshon contended. "This is a regrettable step backwards in the pursuit of peace, to which Israel remains fully committed."
France has for months been preparing to hold a conference that would bring together the two parties and their American, European and Arab partners in order to revive the peace process. Paris has warned that if its peace efforts fail, it will recognize a Palestinian state, but that ultimatum has since been pushed to the sidelines.