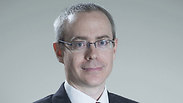 Dr. Ran Baratz. A controversial appointment.
Prime Minister Benjamin Netanyahu has found a solution to circumvent an obstacle which has brought about the rejection of Dr. Ran Baratz's appointment as head of public diplomacy in the Prime Minister's Office (PMO) by the Civil Service Commission (CSC).

Baratz was instead appointed to be a senior consultant in the PMO, and will receive 95 percent of a full director general's salary. In essence, Baratz will be conducting the same duties which fell under his purview in the role previously intended for him: formulating PR strategy, writing speeches, and assembling briefings.

Prime Minister Netanyahu's media adviser, Boaz Stembler, will nevertheless keep his position despie the hierarchical arrangement between him and Baratz being unclear at this point.

Netanyahu announced Baratz's appointment in November 2015, but controversy shortly ensued when it was revealed that Baratz had published harsh, even hostile, messages about US President Barack Obama, Israeli President Reuven Rivlin, and US Secretary of State John Kerry, among others, on social media.


Shortly after Baratz's appointment was announced, President Rivlin's associates set about undermining the decision by attempting to convince government ministers to oppose it. Five ministers did indeed declare that they would oppose the move, were it to be submitted for governmental approval. In the past five months, Netanyahu's associates made it clear that he was determined to appoint Baratz, but was waiting for the most opportune moment. The PM therefore, decided to restart the appointment procedure in late March, and contacted the CSC which only complicated matters.

Civil Service Commissioner Moshe Dayan vehemently refused to approve of Baratz's appointment, arguing that he did not meet the minimal criteria for the position as they are described in the government's decision, including the requirement of having experience in public relations in a diplomatic context. PM Netanyahu countered by saying that Baratz had experience and expert knowledge in PR.

The difficulties the PMO met during the appointment process led to the State Prosecutor's Office being contacted, since there was a possibility it would receive a motion opposing the appointment in the future.

Understanding that he would not be able to pass the hurdle Dayan had placed, Netanyahu, in an unusual move, decided to appoint Baratz as a consultant, which would remove the need for government approval.

Government officials have since criticized the PM's actions, saying, "The Prime Minister is making a mockery of civil service rules, and sending ministers a message that says they can act just like him."