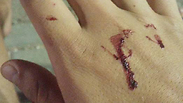 Jewish teen allegedly attacked by Arab youths
A 17-year-old Jewish Jaffa resident was at a public park when a group of 4–5 Arab teenagers allegedly approached him, yelled slurs and 'You deserve to die' before stabbing him with broken bottles; the attacked youth has been treated for his injuries and released from the hospital.
A 17-year-old Jewish boy was attacked Tuesday in a public park in Jaffa. According to him, his attackers were Arabs who screamed anti-Semitic slurs at him and stabbed him with pieces of a broken bottle.

S., who is a student in the Sharon region, was visiting his parents in Jaffa. He went out in the evening, according to him, to a public park in Jaffa to exercise, when suddenly several youths, whom he had seen two weeks ago, showed up.

He claimed that they attacked him with broken bottles and yelled at him, "Stinking little Jew, you deserve to die." S., who was cut, required medical treatment, and Wednesday morning he went with his mother to file a complaint with the police.

His mother told Ynet, "My son is a student in a military boarding school, and he's on vacation right now. It all began when he came to visit a fortnight ago. He went to work out in the public park near home, and a group of four-five youths came and called him a stinking Jew. He heard them, was surprised, and decided to leave."

She recounted the second incident that resulted in her son's alleged attack, noting that the attackers were aged 17 to 20: "He was at the same place, but he was working out with earphones, so he didn't hear or see them coming up to him. They told him, 'You're the guy from last week, stinking little Jew; you deserve to die.'

"They broke a glass bottle, stabbed him in the leg and tried to stab him in the stomach. They laid him on the ground and kicked him. Luckily, my kid is strong, and he managed to get away from them. They brought him to Ichilov Hospital to check his wounds; this morning at 4:00 he was released, and we went to the police to file a complaint."

Her son posted to Facebook, describing the incident.

The two are convinced what caused the incident. "I have no doubt that it was nationalistic and based on the fact that he's Jewish," said the mother."

The police have opened an investigation into the matter.