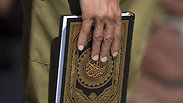 IDF-issued Koran
Photo: EPA
Muslim privates swear allegiance to IDF
The March 2016 cycle of Desert Reconnaissance Battalion soldiers were sworn in on Thursday, consisting largely of Muslim Bedouins, along with some Christian and Muslim Arabs, all of who volunteered for army service; 'I understood how important it was to give and do my part for the country in which I was born, that I live my life in, and that I'm proud of.'
The swearing-in ceremony for the March 2016 cycle of Desert Reconnaissance Battalion soldiers was held on Thursday at the Memorial Monument to the Bedouin Warriors with the majority of the sworn-in soldiers being Muslim. Before their commanders and families, the soldiers, mostly Bedouins with some Muslim and Christian Arabs who volunteered to join the IDF, swore allegiance to the State of Israel and its defense.

The swearing-in ceremony took place three months after the beginning of the training course, eventually becoming full-fledged infantry soldiers.


One of the soldiers who took part in the ceremony was 20-year-old Private Suliman el-Magnun, a resident of the Al-Fura village in the Bedouin area of the Negev. El-Magnun enlisted following his two brothers and a cousin's volunteering for the IDF as well. One of his brothers served in Golani and the other as a tracker. His cousin was in the Ordnance Corps.




"When we swore allegiance to the state, I did it with all my heart," said the excited private. "I understood how important it was to give and do my part for the country in which I was born, that I live my life in, and that I'm proud of."