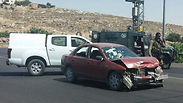 A female Palestinian attempted to carry out a car-ramming attack at Elias Junction, located at the entrance to Kiryat Arba close to Hebron on Friday afternoon. The attacker failed to do so and instead struck another car.
The attempted attack, Friday (קרדיט: הצלה יו"ש)
An Israeli man and a women, who are a married couple, were lightly wounded. Magen David Adom were called to the scene to provide medical assistance. The couple, both in their 50s, were evacuated Shaare Tzedek Medical Center in Jerusalem
The female terrorist has been shot and neutralized.