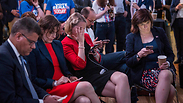 "Remain" camp supporters. (Photo: AFP)
Young Brits wanted to stay, the older generation chose to leave
The younger generation, which will have to live with the consequences of the British exit from the EU for longer, were strongly opposed to it. Older UK citizens went the other way. When the UK actually leaves – in at least two years – demographics may mean that the majority will have tilted towards the young.
The United Kingdom's referendum on leaving the European Union, which was won by the "Leave" camp by a margin of less than 4 percentage points, exposes a divided British society: Scotland vs. England, London vs. smaller, less central towns, and most of all – the young vs. the old.

A poll conducted by YouGov on referendum day indicates a hugh difference between the preferences of younger and older voters. While 72 percent of 18-24-year-olds were going to vote to remain in the EU and just 19 percent intended to vote to leave, among voters 65 years old and older just 34 percent wanted the UK to stay in the EU and 59 desired a departure.

Even among age groups in the middle, this difference holds. Among 25-49-year-olds, 48 percent said they vote to remain and 40 percent stated they would vote to leave, while those aged 50-64 divided into 38 percent who desired the UK to remain in the EU and 51 percent who were interested in leaving.

Even taking account polling errors (for instance, YouGov poll did predict a small margined victory for the "Remain" camp) the generation gap is wide enough to be clearly indicative of a real phenomena.

The Independent pointed out that, since at least two years will pass until the UK's departure from the EU is finalized, and in the meantime more and more young people will reach voting age, a strange situation may result. By the time the UK leaves, the majority of voters may be on the "Remain" side.

The statistics also show a difference between large cities and college towns and smaller, less central towns. While voters in large cities such as London, Manchester, and Liverpool were mostly for remaining in the UK, many small towns in England and Wales held majorities who wanted to leave. The exceptions were small college towns such as Oxford and Cambridge, in which the majority voted to remain in the EU.