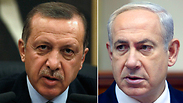 PM Netanyahu and President Erdogan.
Photo: Mark Israel Salem, Reuters
Last Friday a letter was delivered to Prime Minister Netanyahu from new Turkish Prime Minister Binali Yildirim.

We have reached the point whereby the two sides have expressed a desire to make amends, the Turkish prime minister wrote. He continued, saying that talks are currently taking place and the two sides still haven't finished working, but that it should not take a long time. PM Yildirim further said that the most important thing is to remove the Gaza's isolation for humanitarian reasons.

Yildirim has been in his position for less than a month, but is known as one of the most obedient and faithful members of Turkish President Recep Tayyip Erdogan's inner circle. He didn't write the letter or send it on his own initiative. The Gaza issue was left to the very end of the letter on purpose.

Things really start rolling from here. Turkish Hurriyet Daily News published a headline on the timetable of the approaching reconciliation between Israel and Turkey. On Wednesday, the head of the Turkish negotiation team, Feridun Sinirlioglu, told me that an agreement between Israel and Turkey will be published on Sunday, but that it won't be an announcement that we return ambassadors to Tel Aviv and Ankara.




Sinirlioglu further stated that he doesn't know when, where or in what way the agreement will be announced – it could be done simultaneously in both Israel and Turkey, perhaps in a European capital, or the sides could just send the text of the agreement to various news agencies.

By contrast, Turkish Foreign Minister Mevlüt Çavuşoğlu decided to take his time, and prefers to remain cautious and reserved.

Sinirlioglu sounds stressed and speaks shortly and purposefully. He doesn't want to blurt out a single unnecessary word. He said that the sides still haven't finished working. Work on the deal will go on until the very last minute.

After Ramadan in three weeks, it seems like Foreign Ministry Chairman Dore Gold and his negotiation partner Yossi Ciechanover will release the details of the agreement which will have been signed after almost six years with nearly no official relations.

Five years of closed door negotiations aren't a walk in the park. The two have been careful not to congratulate each other – it could be too dangerous.

Yet Sinirlioglu is only the man who was sent to do the dirty work. The reconciliation agreement with turkey was born and formed according to Turkish President Erdogan's mood in any given day, on the whims and fluctuations of his internal affairs, and the international interests of his country.

There was also a sharp turnaround on the Israeli side – Israel was pressured into getting an agreement for three years, and Netanyahu even agreed to utter "words of sorrow" (but not apologize as Erdogan wanted) for the deaths of nine Turks and a Turkish-American who attacked IDF soldiers on the Mavi Marmara in 2010, which was attempting to sail to Gaza. Israel even agreed to put $21 million into an "injury fund" for the families of those who died.

At this point, an agreement could have already been signed and ambassadors could have been exchanged three years ago.

Then Erdogan brought up Gaza and put that as a condition for negotiations. He saw that Israel was eager for a deal, and he saw this as an opportunity to become a hero in the Arab world, and a savior of the Hamas leadership which resides in Turkey.

You have to understand, said Turkish journalist Salim Nashban, Erdogan's sympathy and empathy with the Hamas movement in Gaza doesn't come out of humanitarian interests. He is Hamas. His sympathies lie with the Muslim Brotherhood, and they run deep. Their ideology is his worldview.

That's what motivated Erdogan to request that the blockade on Gaza be lifted as the third condition of the reconciliation agreement, and he announced that he intends to go himself to Gaza. He also stubbornly refused to close down Hamas offices in Turkey. The negotiations fell apart.

Intelligence reports stated that "as long as Erdogan is prime minister (showing that this report was from before he became president), there is no chance of an agreement."

"Even if some sort of agreement comes about," the report warned, "(the agreement) will only last until Erdogan's next angry outburst."
The Leviathan in the room
So what's different now?

At a certain point you all sobered up, said Suat Kinikiyolo, who slammed the door on Erdogan's party and established his own Middle East Research center based in Ankara. As soon as Israel signaled to Erdogan that it wasn't willing to run after Turkey, Kinikiyolo said, the Turkish president grabbed the reins and gave the green light to send signals to Jerusalem that he is ready to come to an agreement.

Dr. Yosef Shapaki, an economist and energy advisor, says that Netanyahu was able to overcome his disgust of Erdogan because of the natural gas.

"With the discovery of the Leviathan gas field, Israel has been preparing to extract and sell the gas. This is a multi-billion dollar find, and Israel needs the Turkish market. According to our information, Israel needs to maintain its relations with Turkey in order to ship the gas through Turkish pipelines and, inshallah, on to European markets. Without the pumping station in Turkey, the gas will evaporate, just like the money. "

Energy Minister Yuval Steinitz was observed speaking with Erdogan when they were in Washington, DC in March. Even Turkey hurried to define the talks as "important" and "especially positive," and it was speculated that the two "have already set up the infrastructure for sending the gas to Turkey."

Egypt, the third player in the planned gas and reconciliation agreement, seems to be absent.

Kinikiyolo guesses that PM Netanyahu is making sure he sends messages of calm support in order to preserve stable relations with Egypt. (Egyptian President) al-Sisi finds himself in a difficult situation; on the one hand, he is chasing after the Muslim Brotherhood in Egypt and fighting with the Hamas military wing, and now, his Israeli ally is reconciling with Erdogan, a patron of Islamists and Sisi's arch rival, he said. In Kinikiyolo's estimation, there is some sort of coordinated mechanism of dialogue regarding the normalization of ties with Ankara.

After the breakthrough whereby it seems that Erdogan agreed that the reconciliation agreement was moving forward, he invited in Khaled Masha'al. Masha'al, equipped with a Turkish passport, received regular updates as to how the negotiations were coming along, and presented his own laundry list of demands.

These included a seaport in Gaza, an expanded complex for fishermen, lifting the blockade, expanding the list of items allowed into Gaza, a new hospital, fixing infrastructure, and building new homes for those who lost their homes in Operation Protective Edge.

Masha'al requested that two other issues be brought up during negotiations: The building of a power station in Gaza, and the absolute refusal of the Israeli request that Turkey close the Hamas offices there.

There's no chance that Erdogan would close the Hamas offices, said journalist Tulin Daloglu. According to him, Israel will have to accept and swallow it.

The next day, the Turkish foreign minister confirmed what Daloglu said, saying that his country will continue to manage their contacts with Hamas, and will not close their offices.

Behind the scenes is also Salah al-Arouri, a Hamas terrorist who organized - without permission from Mesha'al or Ismail Haniyeh –the kidnapping of the three Jewish teenage boys in Gush Etzion, amongst other plans. Israel released him from jail as a part of the Gilad Shalit deal, but he was not allowed to return to Gaza. He was sent to Turkey instead, where he rented offices and started his own group which identified with Hamas but didn't follow its orders.

Nine months ago, Arouri disappeared without a trace, and now he's asking to come back to Turkey. This is where you can see a point of agreement – and it's not the first of its kind – between Netanyahu and the security establishment and Hamas: Both are interested in sweeping Arouri away and putting a stop to his plans. Despite the declarations coming from Gaza, Hamas is not interested in kidnapping Israeli civilians or soldiers, as its leaders know it may cost them dearly. An so, Arouri, rejected by several Arab countries, spends his days in Qatar and Sudan. It's not hard to guess that whenever he is informed of a high-profile figure who's been eliminated, he imagines his name is next on the list.