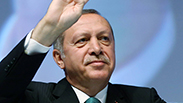 Turkish President Tayyip Erdoğan met with Khaled Meshal, leader of Palestinian militant group Hamas, on Saturday in Istanbul, Turkish presidential sources said, shortly after Israel and Turkey said they were close to patching up five-year political rift.

A source from Erdoğan's office said Meshal "briefed Erdoğan on the latest developments in the region", without giving further details. Islamist Hamas controls the Gaza strip.

Israeli officials said late on Thursday that a deal with Turkey was struck to normalize ties following high-level bilateral talks in Switzerland.

Turkish officials said a final agreement was yet to be sealed, but that given the progress it would not be too long.

Israel's once-strong ties to Turkey soured in 2010 when Israeli commandoes killed 10 Turkish activists when storming the Mavi Marmara, a ship in a convoy seeking to break an Israeli naval blockade of the Palestinian territory of Gaza.

Turkey had demanded Israel apologize over the assault, pay compensation and lift the Gaza blockade. For Israel, limiting Hamas activity in Turkey has been key.

Under the preliminary deal between the two countries, Saleh al-Aruori, a senior leader in the Palestinian Islamist group Hamas who has been living in Turkey, would be barred from the country, the Israeli official had said.